Disney Pixar's Planes Dusty Crophopper Wing Control RC has been picked by 1000 kids as Walmart's Holidays Top Toys for 2013 for ages 3 to 5 years and included in 2013 Holiday Toy List by Amazon.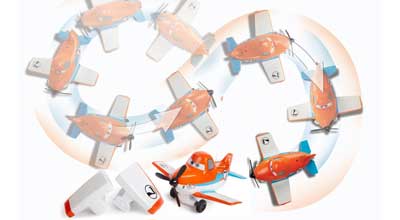 There are so many RC cars in the market with varying designs and sizes, and a lot of them are being enjoyed both by kids and kids at heart. But the Disney Pixar's Planes Dusty Crophopper Wing Control RC is a different kind of RC that gives off a feel of Dusty's soaring adventures only it takes place on the ground. Not only can kids direct Dusty where to go by pressing the thumb button on the remote but the wings bank and shadow the kids hand movements.
Aside from controlling the Wing Control RC, it has three pre-programmed movements that will do at a touch of a button on top of the plane.
Making things more interactive, Dusty says few of his lines from the movie while making him move such as "Bank left!" or "Hi, I'm Dusty, well, my name is Dusty." He says more than 40 phrases and makes engine sounds.
Check out Dusty in action below.
Some things to note when purchasing this toy:
This is not a flying toy. It moves like a car with the exemption of the wings banking, giving it a plane feel. Flying toys are risky because they can bump and easily get broken since it is made of plastic. This is a great toy for those beginning in RC or just plain entertainment.
A great toy for preschoolers, too even if the toy makers recommend it for 10 years old and up.
Used on flat and smooth areas only.
There is no break button, so maneuvering the toy at first can be tricky as it easily turns or go off desired course.
Use Phillips screwdriver to open the battery cases.
Ready at least 4 AA batteries and 2 AAA batteries to operate the plane and remotes. Batteries are not included with the purchase.
It has automatic shut off when not being used so it saves battery power.
The Disney Pixar Planes Dusty Crophopper Wing Control RC is in retail for $39.99, but it is for sale for $28.49 during the time of writing.
Disney Pixar Planes is another 3D computer-animated movie produced by DisneyToon Studios. It is actually a spin-off of Pixar's Cars movie franchise.
The movie is about Dusty Crophopper played by Dane Cook. He is a crop duster plane who dreamt of becoming a racer plane. We may see him again in the sequel entitled Planes: Fire & Rescue which is set to be released on 2014.
Images courtesy of Amazon and Videos courtesy of YouTube/DisneyCollectorBR