The Zoomer Interactive Dino by Spin Master is included in 2014 Walmart's Top 20 Toys Chosen by Kids, 2014 Holiday Toy List by Target for 4 to 6 years old, 2014 Toys R' Us Fabulous 15 Toys, and 2014 Holiday Toy List by Amazon.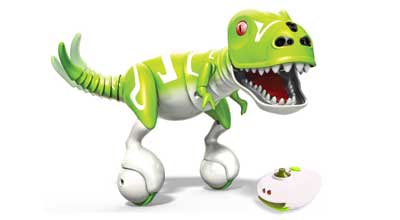 Since there are no living dinosaurs anymore and your kid wants one as a pet, why not try the Zoomer Interactive Dino and call it Boomer.
Zoomer Interactive Dino is a T-Rex, and is designed to balance himself and roam around the house like a real pet does. This pet dinosaur can actually be tamed rather than just seeing a robot toy do its presets. Your kid can teach him tricks like dancing, chasing, chomping, and even roaring. Actually, the more time you spend time with him, the quicker it will respond to commands.
His personality seems to come out when you spend time with him. You will find him being sensitive when you pull his tail like real pets. He even can sense where and whatever you are doing.
Below is a full review and demo of the Zoomer Interactive Dino.
The Zoomer Interactive Dino is priced at $106.50 at Amazon during the time of posting.
Some things you have to take note when purchasing this product:
Recommended for kids ages and up
Charges via USB and uses 3 AAA batteries for the remote
Easy to use
Images courtesy of Amazon and Video courtesy of YouTube/Toy, Gadget and Product Reviews by Dad Does