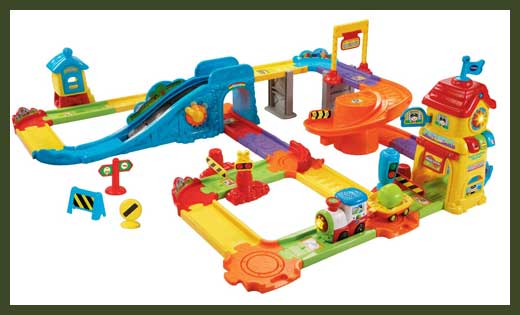 The VTech Go! Go! Smart Wheels Train Station Playset was picked by a thousand of kids as Walmart's Holiday Top Toy for 2013 for ages 18 months to 2 years old.
The VTech Go! Go! Smart Wheels Train Station Playset is part of the new line of vehicles that have Smart Point Location feature which combines playing and learning for ages 1 to 5 years old. Each vehicle that passes through these Smart Point locations will respond to sound effects, music, and even fun phrases. It is an engaging train and car games that kids will learn songs, time concepts, alphabets and even foreign language while imagining themselves as conductors of the train whizzing around the tracks.
Also, this playset has a 15 feet worth of interchangeable tracks to encourage imaginative and manipulative games for little kids. This is very clever because even my son gets easily tired of the same track design that he will abandon such after a day.
This playset includes one Go Go Smart Wheel train, train station, bridge and tunnel, conveyor belt hill, and more highway accessories.
Watch a short video below to see the playset in action.

This Train Station Playset goes well with other 20 different VTech Go! Go! Smart Wheels Playsets such as the Airport, Garage, and Fire Station and Smart Wheels vehicles to mix and match with.
Some things to watch out for:
This playset comes with suggested track configurations. It is like a cheat sheet to lessen your worries on how to configure the tricky tracks. This is not available online, so keep it in a safe place or better make copies in case you misplace it.
Some track pieces are left open for track reconfiguration or adding other Go Go Smart Wheels playsets, but since they are open, the train or other vehicles tend to veer off. There is one piece for closing these open tracks but not enough to close up all open tracks. These pieces are not yet available as accessories from VTech, so purchasing extra is not an option.
Some pieces are quite hard to snap into place for a toddler so they will need assistance from time to time.
AAA batteries are needed but unfortunately not included upon purchase. You will need at least 3 for the train, and 2 for the station. More batteries for additional playsets or vehicles.
VTech Go! Go! Smart Wheels Train Station Playset is normally priced at $49.99. But during this time of writing, it is on sale for $39.99 at Amazon.
Images courtesy of Amazon and Video courtesy of YouTube/ToysTelevision