Stokke revolutionized the stroller design with the Xplory. It is designed to grow with the child from birth to toddler years like other competitive strollers in the market. It enables parents to turn a standard single stroller into a travel system or combo stroller. But the Xplory's edge from other stroller brands is that they designed it to aid parents and their child to bond and making them to be as close to each other as possible. This promotes security for the little one. Later on we will tackle each feature that makes this bond possible.
The Stokke Xplory stroller was first launched in 2003. The second version came out back in 2009. And the latest version was released last 2011 having the newest features and innovative design.
Below is a comparison between the V2 and V3 of the Xplory.
| | | |
| --- | --- | --- |
| Features | Old Version | New Version |
| Adjustable Seat Height | Shimmys down on bumpy rides | Firmer and more secure with 3-yr warranty |
| Removable Foot Rest | using knobs on the sides | using one lever |
| Textile | cheap looking material and no sun protection | athletic material with SPF 50 sun protection (Summer Kit) |
| Canopy | no additional visor and ventilation not secured on anything | large visor and ventilation secures open with a snap |
| Seat | has exposed plastic, not fully covered with textile | fully covered with textile even the back |
| Rider Board | not compatible except from other brands | compatible |
| Front Bar | attached by screws | clips in and out by buttons |
Raised Padded Seat
One of the best features that parents rave about the Stokke Xplory Stroller is that the seat can be adjusted so high up as compared to other strollers. This is what Stokke takes pride on creating a stroller that encourages bond between parent and child, and enables the child to actually see the world. Some parents often forget that kids are quite uncomfortable because they stay so low that they have the hard time to see what's going on or that they feel far from their parents' comfort. Some strollers when reclines are even lower than store push carts. This is one of the reasons why my son hated his stroller and was so uncomfortable with it and would ask me to carry him instead. During walking in the city, sometimes parents get worried with their kids inhaling all those smoke from vehicles. Also, simply talking to a baby or making diaper changes is a struggle because parents have to bend over.
Stokke Xplory Stroller's seat can be moved within a 12-inch range, sliding the seat up or down. Its adjustment enables the baby to make more eye contact to the parents. Also, kids on it enjoy strolling more because they get to see above fences on Zoos. They are also able to interact in restaurants with the parent as the Xplory turns into a high chair and kids won't have to see only the table or easily grab dangerous utensils.
Also, the seat is softly padded that adds to the comfortable ride. It gives that womb-like feel as the baby snuggles on it while sleeping or simply feel secure on it during the ride. It has no sharp edges or corners that might strain the baby and is washable.
Adjustable Seat Depth
One size really does fit all.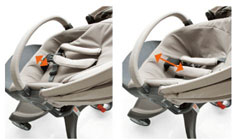 Along with padded seats, Stokke still egg on adding comfort for younger ones. Stokke Xplory Stroller is fitted with removable seat insert to accommodate small babies. This creates better seating position for shorter legs and flatter back for support. The most relaxed position has an angle of 10 degrees with respect to the horizontal level. This feature assures you that the baby's growth development is not compromised. As the baby grows and become more active, you can remove the insert to make room for the lengthening legs.
Two-way Sitting and 6 Seating Positions

The Stokke Xplory Stroller lets you take control on facing positions for your baby. The seat can face forward or face you. This two-way sitting gives you the flexibility to give the baby's needs whether he is asleep and you want to look after him or whenever he wants to sit and look at the world.
From using the carry cot to using the seat, the Xplory can expand to 6 different seating positions: one for the carry cot, 3 for facing backwards, and 2 for facing forward. They are:
For the carry cot: sleep
Seat facing parents: sleep, rest, and active
Facing Forward: rest and active
The Seat can be removed while the baby is on it, and can be settled on the ground steadily using the released tab at the back of the seat. So you don't have to worry about making different orientation anytime you want it.
Five-Point Harness
The Stokke Xplory Stroller is equipped with the state of the art five-point harness. It is adjustable to make your baby comfortable, snug, and safe. It fits the smallest, even with sleeping bag, even with seat insert, or for the toddlers.
Adjustable Footrest
My baby hated his stroller because he hates that his feet is dangling all the time. For Stokke, they made this issue solved by making the footrest adjustable. This is to conform to the baby's growing legs making it more comfortable for the baby to be on it even after a few hours. This will enable the baby to move his upper body with ease as he makes shifting movements at will. Also, this ergonomically designed feature ensures the proper development of baby's bones, joint and muscles.
Adjustable Handle
Another beneficial feature for the parents of the Xplory Stroller is the ergonomically designed adjustable handle. Some strollers are starting to include this but they only focus on the height adjustment. Xplory's handle adjustment includes tweaking the angle position itself. This reduces strain for you and gives you the solution whether you are short or tall.
Large Protective Hood

With Stokke Xplory Stroller Version 3, you will be able to create a warm and more secure environment by providing more shelter and protection to your baby. Stokke Xplory gives that capability using its huge canopy or hood with folding visor and wide ventilation window.
The best thing about this hood is the wide ventilation window which is enclosed by a zipper. You wouldn't even notice that it is there in the first place. When you lift the flap, it clips on the upper part of the hood so that it won't close the vent. That vent is great for air circulation and reduces moisture inside the seat or bassinet. The netted fabric is also great for having a bigger view of the baby.
The hood is made of water repellant material. This is great for those unexpected drizzle, and will protect your baby from getting wet. Also, this special type of fabric has SPF 50 protection. This will shield your baby from the harmful rays of the sun.
Weight and Dimensions
Product Weight
Chassis with Seat – 23 lbs;
Chassis with carry cot – 27 lbs;
Chassis only 18.3 lbs
Maximum Capacity
Seat – 45 lbs;
Carry Cot – 20 lbs;
Sibling Board – 44 lbs (1 child)
Width
75 – 102 cm
Length
89 – 123 cm
Construction and Frame Design
The frame or chassis of the Stokke Xplory Stroller is made of aluminum and different types of plastic. This makes the Xplory lightweight as compared to other full-sized strollers. While the upholstery is made of polyester which is water resistant.
The chassis of the Xplory is very modern looking and is functional. The wish-bone like structure of the rear wheels has ample space that lets parents to have long strides. Also, there is no crossbar so walking is not restricted and no more pain on the shins or toes.
Sporty Swivel Wheels
The Stokke Xplory Stroller's wheels are made of soft materials that lessen the risk of being punctured during the ride. Also this adds to cushioning the stroller on rough terrain. The front wheels have great swiveling action that makes turning on tight curbs or pivoting makes it a piece of cake. The back wheels have a quick release or pushing a button for attaching and reattaching so that during folding, the Xplory can become more compact.
Single Pedal Brake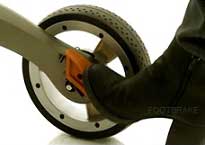 Unlike other standard strollers, Stokke Xplory has only one pedal that locks the rear wheels. This makes it so easy to park and ensure that the stroller will not move. All you have to do is push the lever once to park then release it again to make it move. This is even good to do even if you are wearing a flip flop and won't snag your sandal.
Folding for Storage or Two-Wheel Function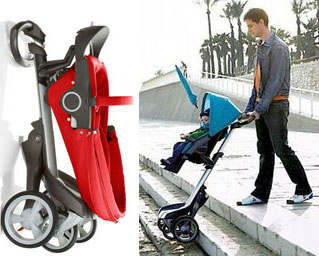 There are two uses for a Stokke Xplory Stroller be folded. One of which is for storage. Folding mechanism is just easy to do. You can fold the stroller with or without the seat. For the Carry Cot, you do have to remove it. But for stowing it in a vehicle it is best if the seat is removed first except maybe if you own an SUV. Then make the push-lift on the joint connecting the wheels (see the picture)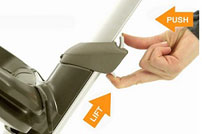 . The folding maybe easy enough, but removing the carry cot or the seat can be too laborious if you will do it many times a day.
Another use for simple folding the stroller is for strolling on rough terrain, uneven surface, or stairs. The stroller is folded with seat in place, but the front and rear wheels are all line up together creating a cart-like appearance. This is the Stokke Xplory's two-wheel function.
Practical Shopping Bag
Another different feature of the Stokke Xplory Stroller is its storage space below the seat. Instead of the open-spaced basket, Stokke introduced a large shopping bag. The shopping bag can carry up to 40 litres or 2 kilograms worth of goods when you are running an errand. It gives the seat more stability.
Car Seat Adaptors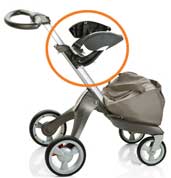 In case you already have the infant car seats from other brands, the Stokke Xplory can hold it as well. But not all brands though. As an extra part, car seat adaptors are sold separately at $79.99 each. The following Car Seats of different brands are only compatible with the Stokke Xplory:
Peg Perego Primo, Viaggio SIP, Primo Viaggio, TRI-FIX, Primo Viaggio SIP
Graco Snugride, Autobaby I, Autobaby II
Maxi Cosi Mico
Stokke Xplory Sibling Board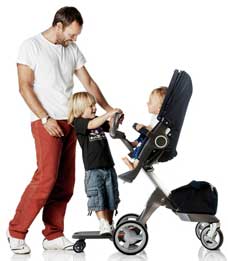 Another great accessory for the new version of Stokke Xplory Stroller is that it is Sibling Board compatible. For bigger kids to still enjoy the Xplory while letting their younger siblings use the seat, the Stokke Xplory Sibling Board can simply be attached between the rear wheels. When not in use, it can simply be tucked away or folded up.
The Sibling Board can only accommodate one child with a maximum of 44 pounds. It is sold separately for $119.99.
Other Accessories and Parts
Stokke Xplory Carry Cot, $224.99
Changing Bag, $119.99
Foot Muff, $129.99
Sleeping Bag Fleece, $129.99
Fitted Sheet for Carry Cot, $54.99
Knitted Blanket, $69.99
Sheepskin Lining
Parasol, $49.99
Mosquito Net, $19.99
Cup Holder, $24.99
Stokke PramPack Travel Bag, $199.99
Stokke Xplory Style Kit (textiles), $155.99
Seat including hard parts and Style Kit textiles, $229
Rain Cover for Seat and Carry Cot, $19.99 and $19.99 respectively
Wind Cover for Carry Cot
Stokke iZi Sleep by BeSafe, Car Seat
Winter Sleeping Bag, $199.99
Fabric Options

The Stokke Xplory is customizable and has a wide range of colors to choose from. It comes in Beige, Brown, Dark Navy, Green, Light Green, Purple, and Red.
Along these solid colors, Stokke offers more choices to customize the look and feel of the Xplory Stoller by offering Limited Edition colors and styles, and Summer and Winter Kits that are made to make your baby feel more comfortable with extreme hot and cold weather.
Limited Editions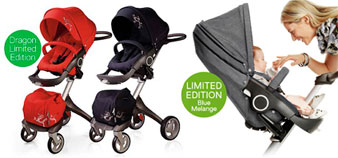 Dragon
Since 2012 is the Chinese Zodiac year of the Dragon and Stokke happen to celebrate its 80th anniversary, Stokke launched the Stokke Xplory Dragon Limited Edition. This blends Chinese and Nordic traditions for the Asian market. It comes in two colors: Red and Dark Navy. Both are embroidered with a dragon in silver on the cover fabric, hood, and shopping bag. But this limited edition design is only available in the Asia Pacific Region.
Blue Melange
Stokke also released another limited edition fabric, the Blue Melange. Blue Melange is a mix of blue and beige hues that are great for both boys and girls. This new fabric is also rich in texture but still looks classy. It will cover areas for Seat Padding, Rear Textile Cover, Harness Protector, Seat Rail Cover, Hood with Visor, Baby Pad, Shopping Bag, Mosquito Net and Rain Cover. You can update your Stokke Xplory Stroller by getting a new Style Kit and Changing bag. Blue Melange is also available for the Carry Cot but is sold separately.
Summer and Winter Kits

Summer Kit
To encourage leisurely walking with your baby in the summer, Stokke designed the Xplory Summer Kit. This kit will shade your baby from the sun's harmful rays. The fabrics have SPF 50 protection. The kit includes terry cloth seat liner for the carry cot to offset baby's sweat and add extra ventilation for his skin. There is also a shade that is placed in front of the carry cot to screen the baby while he is sleeping, and has a cut in the center so you can peek at the baby at anytime.
The Summer Kit includes rear and side ventilation netting for letting the air flow through the stroller. It also has a sun sail, parasol, and matching hood. It fits the seat and carry cot but only fits only the latest version (V3) Xplory model. Fabric on the back of the seat indicates that it is a V3 as oppose to the other versions.
Stokke Xplory Summer Kit comes in four colors where you can mix and match and create a new look anytime you want. The colors are pink pixels, blue plaid, new blue pixel or beige dots.

Winter Kit
For that cool weather, Stokke offers a kit suitable for the winter days. This is the best they came up with to protect your baby from the icy chill. This is recommended by many because it has been tested by Scandinavians themselves who knows what protection the baby needs.
Winter kit includes extra-insulated hood with storm cover for guarding your child against harsh winds, an attachable sheepskin rim on the hood which is soft for the baby's skin, and the popular hand-muffs with sheepskin rim for you. It fits seat and carry cot and is only compatible with the Version 3 Xplory models. The Stokke Xplory Winter Kit comes in four different colors: Red, Purple, Navy, and a limited edition Silver.
In addition to the Winter kit you can also get the Winter Sleeping Bag which can fit all brands of strollers. It has concealed flaps to accommodate the five-point harness of strollers or car seat. But this is only suitable for newborns or babies with maximum length of 71 cm. This is sold separately at $199.99.
Awards

The Stokke Xplory Stroller has received numerous awards for its design and performance. They are The Red Dot Design Award, The Norwegian Design Council, VIP Asia, and MoMA. This is because of its innovative and unique stroller design and functionality, as well of its ease of use for parents and babies.
Pros and Cons
Pros
the seat enables parents to interact with the baby
high seat adjustment can double the stroller as a high chair
foot rest is adjustable
all adjustable parts are easy to do
the design is beautiful and chic
rides on any surface easily
2-wheel mode handling perfect for stairs
easy to stir even by one hand
easy to fold or come apart
has decent resale value
customizable, so many styles and accessories to choose from
Cons
Huge price tag even on the accessories
lack of storage
pretty heavy and bulky, Carry Cot is hard to stow away
not compact when folded
front wheels are not lockable
no front snack trays
the attaching and reattaching of seat and foot rest is not practical to do it many times a day
Manual/ Quick Start Guide is a mess, it's full of illustrations that do not have proper instruction
Consumer Ratings
Consumers have rated the Stokke Xplory as 4.5 with 75% of whom rated it as 5. Many are satisfied as quality and luxury comes in play for the Stokke Xplory Stroller.
Stokke Xplory Stroller's Price
The Stokke Xplory alone is priced at $1099.99. But during this post was made, it is on sale at $934.99 plus free shipping giving you 15% in total savings. The prices of the accessories are already listed above.
In case you want to sell the Xplory once your kid outgrew it, you can sell it for about $300-$600. This is one of the best things about the Xplory, its resale value is still high. That shows how extraordinary the quality of the stroller that Stokke made.
Overall Impression on the Xplory
If you dwell in a city and would love to have stylish, safe, sturdy, functional, customizable, high quality, first-class stroller then the Stokke Xplory is for you. These are the reasons why the Xplory has won four international awards and has been called the celebrities' stroller, not just because of the high price tag.
If you are in the fence, then do not risk buying a brand new, you can get second hand ones but be sure how long it was used by the first owner. Do check for other functionalities if they are still working great. Also, if you happen to get a Xplory, check out some tutorials in the internet on how to use it, because Stokke has not yet improved their user guide.
The Stokke Xplory Stroller is a both luxurious and premier stroller that promotes not just comfort, but ensures safety and aids in bone and muscle development as your baby grows.