The Doc McStuffins Get Better Talking Mobile Clinic from Just Play is included in 2014 Walmart's Top 20 Toys Chosen by Kids, 2014 Holiday Toy List by Target for 4 to 6 years old, 2014 Toys R' Us Fabulous 15 Toys, and 2014 Holiday Toy List by Amazon.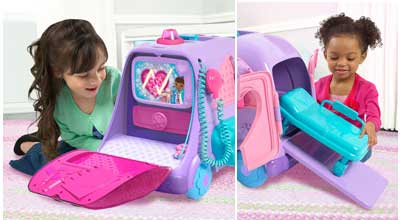 As much as we love last year's Doc McStuffins Get Better Check Up Center, it may be huge and bulky especially those who do not have enough space at home. Both parents and kids may want something that can be lugged around. This year's fave is the Doc McStuffins Get Better Talking Mobile Clinic.
Kids will surely enjoy playing doctor with this mobile clinic that even has gurney and patient seat for securing their patients while on the move, a working ladder to reach them wherever they are, and a hidden handle underneath that can be unfolded for moving the clinic. Also, the mobile actually make siren lights and sounds whenever the wheels roll.
For actual patient care, there is a otoscope and thermometer to give on-site checkups and the bumper can dispense stickers or bandages to fix booboos. Inside the mobile the heart monitor or EKG which has lights, sounds, and phrases by Doc McStuffins when pressed.
Kids will have fun listening to phrases by clicking on the CB radio as if calling and talking to Hallie, the stuffed hippo the nurse about their diagnosis.
Below is the demo for the Doc McStuffins Mobile Clinic.

The Doc McStuffins Mobile is listed at $51.99 during the time of posting.
Some things you have to take note when purchasing this product:
Doc McStuffins or Lambie doll is not included in this playset
Watch out for the door, it can actually easily get loose since it does not have a clip to close it
For kids ages 36 months and up
Images courtesy of Amazon and Video courtesy of YouTube/TheEngineeringFamily