Educate your little ones about construction with The Disney's Mickey's Mouska Dozer by Fisher-Price. Real construction vehicles can be scary to some preschoolers, my son cried and clinged onto his teacher when he was three at a field trip upon seeing the excavator's mouth-like front. So the Mickey Mouska Dozer is great for introducing these vehicles to young ones. Also it is very cute and brightly colored with those familiar Mickey Mouse figures he sees on the Mickey Mouse Clubhouse from Disney Junior.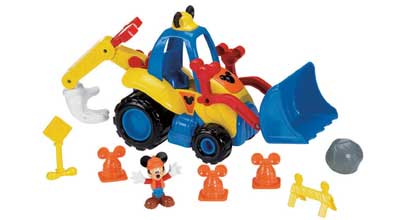 The dozer has fun sounds and phrases of Mickey whenever the front loader goes up and down. The excavator shaped like Mickey's gloved hand really turns and pivots which mimics that of the real thing. The cab can be rotated so that Mickey can operate both ends of the vehicle.
Also, the playset comes with a 2.75-inch Mickey Mouse figure dressed as a construction worker which fits inside the vehicle and all accessories needed for the construction site like traffic cones, road block, construction sign, and a boulder. You can teach kids the importance of safety in a construction site and what those signs mean so that he can recognize them when he sees them on the road. And with the boulder, you can demonstrate how the front loader is used.
Below is a short demo of the Disney's Mickey's Mouska Dozer.
The Fisher-Price Disney's Mickey's Mouska Dozer is priced at $29.75 at Amazon when this was written.
This product is very simple but compared to other construction trucks and toys, it has the Mickey Mouse signature look and the sounds/phrases make imaginative play more interesting. It is also good for kids who love construction toys for his collection.
Some things to take note when purchasing this product:
It requires 3 non-standard batteries. The kind that you use for hearing aids. They are already included upon purchase.
Great for toddlers and preschoolers
Works well with other toys
Images courtesy of Amazon and Video courtesy of YouTube/DisneyCollectorBR