3,600 units of BebeLove Baby Walkers that were sold for babies' age 6 months and up have unfortunately failed to meet federal standards that can make babies seriously injured or worse killed.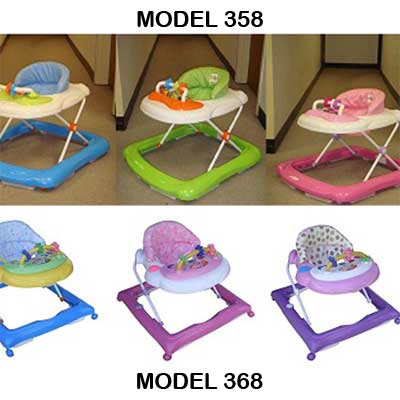 Model 358 baby walkers that have green, pink, or orange musical tray with a white toy bar and solid colored seats are said to fit through standard doorways and do not stop at the edge of a step, while Model 368 walkers that have green pink, or white musical tray with yellow toy bar and patterned seats contain leg openings that does not prevent child from slipping down until the babies' head can be trapped at the neck. (Model numbers are printed on the label the rear bottom inside the base.)
Fortunately, there are neither incidents nor injuries reported as of today and hopefully none will occur ever.
BebeLove Baby Walkers model 358 and 368 were sold at retail stores in Arizona, California, and Utah, and online through Amazon and Overstock from November 2011 to July 2013 for about $25.
Consumers can contact BebeLove through their toll free line at 888-464-1218 from 9 a.m. to 5 p.m. PT Monday through Friday, or through their website at www.bebeloveusa.com and click on "Recall Contact" and ask for a free repair kit.
Also check out CPSC page for more information here.