Britax, CPSC, in conjunction with Healthy Canada have recalled about 216,000 B-Agile, B-Agile Double and BOB Motion strollers in the United States and 8,800 in Canada. This is mainly because of the hinge on the stroller's folding mechanism can partially amputate, break, or cause severe lacerations on consumers' fingertips when pressing the release button while pulling the release strap.
Britax has received 8 incidents including one partial amputation fingertips, one broken finger and severe lacerations.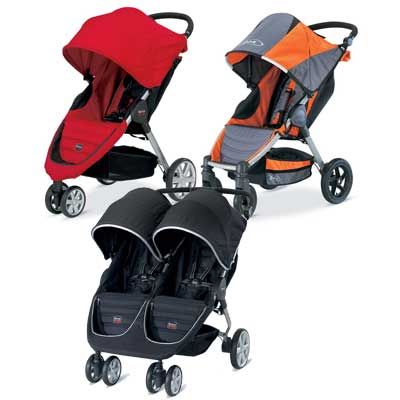 Affected models are as follows:
B-Agile strollers – U341763, U341764, U341782 and U341783
B-Agile Double strollers -U361818 or U361819
BOB Motion strollers – U391820, U391821, U391822
B-Agile Single and Double Strollers come in different colors such as black, red, kiwi, sandstone, navy, and orange colors manufactured between March 2011 and June 2013.
The model number and the manufacture date in YYYY/MM/DD format can be found on label located on the inside of the stroller's metal frame near the right rear wheel.
These strollers were sold at major retailers nationwide and online such as Amazon, albeebaby.com, buybuybaby.com, diapers.com, ToysRUs.com, etc from May 2011 through June 2013 for $250 to $450.
Britax provides a repair kit for the affected strollers. Consumers can get these repair kits by contacting them through 866-204-1665 from 8:30 a.m. to 6:00 p.m. ET Monday through Thursday and 8:30 a.m. to 5:00 p.m. Friday, through their websites at www.britaxusa.com or www.bobgear.com, or through their email at strollerrecall@britax.com.