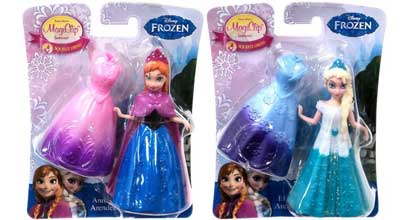 The latest among the MagiClip Dolls made by Mattel is from the new Disney movie Frozen where there are two princesses to choose from, Princess Anna and the Snow Queen Elsa.
Check out my previous post about Disney Princesses MagiClip Dolls to know more about them.
Meanwhile, check out the video below on the actual unwrapping of Anna and Elsa MagiClip Dolls that comes in with one additional dress each.
The Anna MagiClip Doll is priced for $9.50, while the Elsa MagiClip Doll is priced at $24.76. Regarding the price difference, Amazon and its vendor's pricing may differ depending on current sales or promos. Do check back my real time updates if you are interested to purchase through Amazon.
Need more clothes for Anna and Elsa? Use Play-Doh to create your own designs. The Play-Doh Design-A-Dress pack are great for this since it has tools and the right colors of modelling compound for making dresses, but not really necessary. Any modelling compound will do. See an example below.
If you are interested in collecting all princesses which includes Aurora from Sleeping Beauty, Belle from Beauty and the Beast, Cinderella, Tiana from The Princess and The Frog, Ariel from The Little Mermaid, Rapunzel from Tangled, and Snow White, here is a gift set now available in Amazon for $34.80.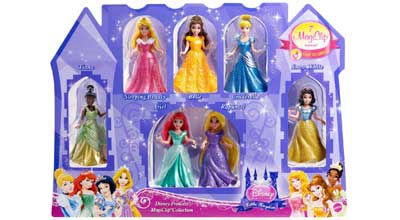 Images courtesy of Amazon and Video courtesy of YouTube/ToyCollectorTV and DisneyCarsToys