Like the previous Play-Doh Design-a-Dress Boutique, little girls can create stunning Ballroom dresses for their favorite Disney Princesses. But instead of only two princesses (Belle and Rapunzel), this play set has four (includes Ariel and Cinderella).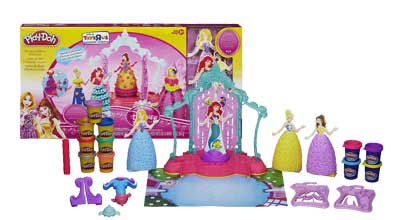 Aside from the tools and cutters, this playset has 4 cans of Play-Doh Plus compound that comes in purple, blue, pink, and yellow and 7 regular cans of modelling compound that comes in yellow, blue, gray, pink, purple, red, and dark blue.
Play-Doh Plus is a new compound that was introduced last year in the Sweet Shoppe series. It is softer than the regular compound and is great for decorating cakes and candies. In this playset it does well in creating ruffles and ribbons.
Check the demo below.
The Play-Doh Plus Design a Dress Ballroom Disney Princess with Belle, Ariel, Rapunzel, and Cinderella used to be exclusive in Toys R Us released in November 2013. Now, it is also available also in Amazon for $44.59 during the time of writing.
This playset is the upgraded version of Play-Doh Design a Dress Boutique Playset Disney with Belle and Rapunzel which is only about $22.99.
Images courtesy of Toys R Us and Hasbro, Videos courtesy of YouTube/DisneyCarToys