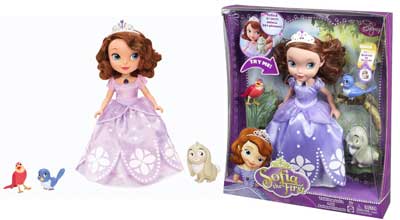 The Sofia the First Talking Doll and Animal Friends has been picked by 1000 kids as Walmart's Holidays Top Toys for 2013 for ages 3 to 5 years and included in 2013 Holiday Toy List by Amazon.
The Sofia the First Doll is not just any talking doll, but it is made to talk and interact to her animals friends that come along with the package. Just like in the Sofia the First's series, Sofia is able to communicate with animals once she puts on her Amulet. The doll will start chatting with her friends as long as each animal is placed close to the toy Amulet.
Check a great video review below.
Some things to take note when getting this doll:
Sofia will talk once you put one animal at a time in front of her amulet, though pressing the amulet will also make her speak even without the animals in front of it
Remove Sofia from the "Try Me" mode to make her interact with the animals
The Sofia the First Talking Doll and Animal Friends is sold at $39.99, but is currently on sale for $27.42 during the time of writing.
Sofia the First is another animated Disney Princess TV series that started in January 2013 where Sofia suddenly became a Princess when her mother, Miranda married the King of Enchancia. Sofia stars Ariel Winter, a great actress who also is currently starring as Alex in Modern Family.
Images courtesy of Amazon and Videos courtesy of YouTube/TheEngineeringFamily