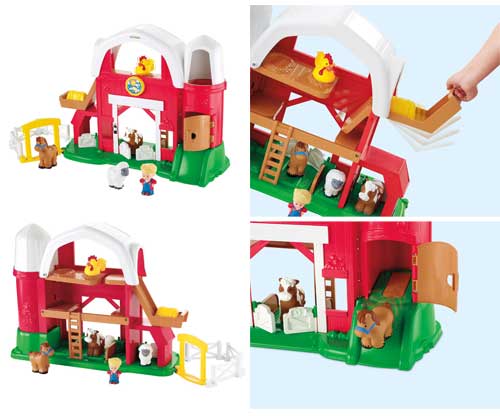 The Little People Fun Sounds Farm by Fisher Price has been picked by 1000 kids as Walmart's Holidays Top Toys for 2013 for ages 18months to 2 years, Toys R Us' 2013 #TRUHotToyList for and included in 2013 Holiday Toy List by Amazon.
The Little People Fun Sounds Farm playset is focused on the barn and how to run the farm and its animals. It may seem too much for a child but the playset actually stirs curiosity for a young mind. There are animal sounds, songs and even sounds what is like in a farm from day to night.
It comes with Farmer Eddie, a horse, a cow, a sheep that are stand alone figures that can be placed anywhere. This is a huge plus because most playsets only offer one figure and break parents' banks to go and buy additional figures.
The playset is easy to build and has a lot of swinging parts where children can imagine animals and how to care for them. They can even build a corral using fence links which are kid-friendly.
The silo itself stores all parts and accessories. And there is an on and off switch to disable the sounds after playtime or basically to save on batteries.
Watch the video below for a short demo.
This is an updated version of the Little People Fun Sounds Farm. It is bigger and much sturdier than before which gives it a longer lifetime for a young kid to grow with or shared with a playmate. Also, fence links can be used to add other playsets such as Farm Tractor & Trailer Playset, Farm Pond & Pig Pen Playset, and Growing Garden & Farm Stand Playset.
Some things to note about this playset:
It will become bigger than the box once everything is set-up and installed. So looking for a place to store it as is can be a challenge, unless you dismantle it again.
You need screwdriver to secure some pieces. The screws were essential to keep a major piece from falling off.
It requires two AA batteries, but it is included upon purchase.
The Little People Fun Sounds Farm is priced at $39.99, but is on sale for $29.99 upon writing.
Little People is a toy product line by Fisher Price which started in the 60s. It consists of playsets such as the Fun Sounds Farm, min-sets, books, CDs and even DVDs which are focused on the Little People characters. Farmer Eddie is one of those Little People characters.

Images courtesy of Amazon and Videos courtesy of YouTube/AllToyCollector