Like a cake or a cookie, anyone can create and keep recreating wonderful designs that sweets can offer. Great thing about Play-Doh is that you only keep on redecorating without actually gaining all the calories. Well, this time for being a Princess, creating numerous Ball Gowns and Evening Dresses is a dream comes true without spending for numerous clothes and threads.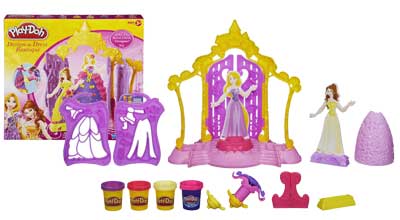 Design-a-Dress Boutique by Play-Doh lets kids continuously make Belle and Rapunzel's dresses. Through the use of 3 modelling compound of yellow, pink and purple, girls can create beautiful long gowns and embellished them using another pink Play-Doh Plus compound for creating ruffles and ribbons.
Check out the demo below.
Play-Doh Plus Compound was introduced this year, 2013, as an actual addition to Play Doh's Sweet Shoppe playsets. The new compound are much softer than the regular one which mimics that of a real icing for making cakes, ice creams, or other sweets. This new compound works also well like what is shown in the video.
The Design-a-Dress with Belle and Rapunzel is also available in Amazon which is regularly priced at $22.99. It is currently on sale for $19.22.
This play set goes well with Play-Doh Disney Prettiest Princess Spin N Style Cinderella and Play-Doh Disney Princess Ariel's Vanity Set. But if you want a bigger play set with four princesses then it is advised to get the Design-A-Dress Boutique with Belle, Ariel, Cinderella, and Rapunzel.
Images courtesy of Amazon and Hasbro, Video courtesy of YouTube/DisneyCollectorBR