Olaf and Sven from the new and upcoming Disney animated movie Frozen come to life with these new plushies.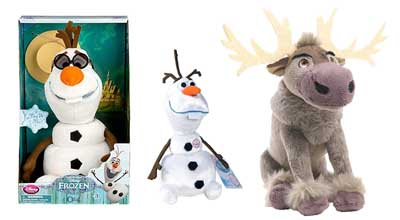 The 10-and-a-half-inch Olaf the Snowman (on the left) has an on and off switch on its foot where it talks about how he much love summer and moves while singing a few lines of "In Summer" song which is included on the movie's official soundtrack . It also comes with sunglasses and straw hat accessories to show off a summer feel.
The smaller Olaf plushie on the right with approximately 8 inches in height says a few of Olaf's lines and phrases from the movie. This is a cute toy for kids ages 3 to 6 years old, but requires 3 batteries which are included upon purchased.
The reindeer plushie is Sven who is another friend in the movie Frozen. The plushie also talks and says a few phrases from the movie, more like sounds of an animated reindeer rather than actually speaking like Olaf does.
See actual demonstration on the video below.
The singing Olaf with sunglasses and hat is priced at $56.
The smaller talking Olaf is priced at $11.99.
The Sven plushie is also priced at $11.99 via Amazon.
Frozen is the upcoming fun-filled adventure movie this winter season from Disney where Olaf played by Josh Gad, and Sven help Princess Ella played by Kristen Bell to get rid of their place with the curse of snow. I wonder what will happen to Olaf when the snow is over being a snowman and all. The movie will be out on November 27th.
Images courtesy of Amazon, Video courtesy of YouTube/DisneyCollectorBR