Table of Contents
Whether the climate is cold or wet, these rocking back to school boots for little girls are a hit. They are great addition for little girls to look great and still get protected from rain or cold weather. We are sure that your girls will beg to stay out and will be eager to stay in school with these beauties that even we adults wish they have adult sizes for each. We have listed 5 girls' boots for you to choose from.
1. Bogs Classic High Daisy Rain Boot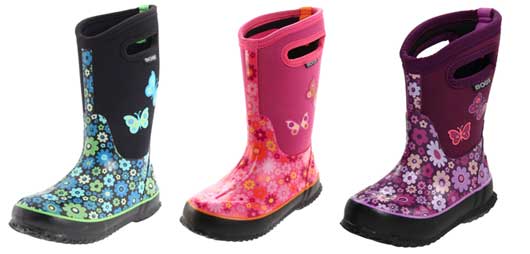 Bogs Classic High Daisy mid calf rain boots is fully waterproof. They are also so comfortable because of the stretchy inner lining. They are also easy to put on because of the rubber and synthetic upper with easy-grip handles. The rubber soles are threaded so that your little girl will not slip on puddles. What we love about the cute Bogs boots is that they have Aegis anti-microbial odor protection for the insole. They come in Purple, Blue, and Pink colors each with its own floral detail. They are priced at $49.15 to $72.99 depending on size.
2. Hush Puppies Foxcroft Boot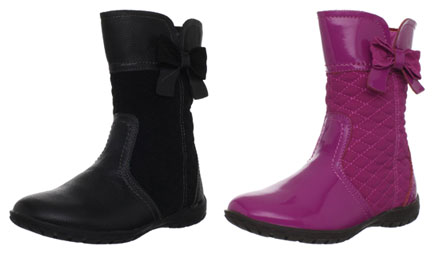 Next in our list of cute boots are very simple but gorgeous. The Hush Puppies Foxcroft ankle Boots is made of quilted Leather and suede that has a Dual fit system with anatomically-designed foot bed for fit and comfort from a medium width to wide by removing the blue EVA insert. It has breathable microfiber lining to prevent unpleasant odors and will keep feet comfortable. The bow gives a nice touch of detail and it zips on and off easily at the side. It comes in Black and Pink colors. It is in retail for $64.16 to $70 depending on size.
3. Kenneth Cole Reaction Pip Pop Boot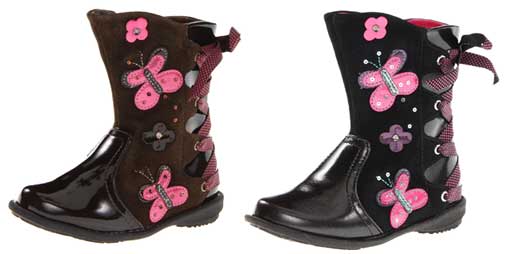 How about a little cowboy type design but made for little girls? This Suede Pip Pop Boots from Kenneth Cole Reaction has butterfly appliqué and cross-lace at the back. It is so comfortable to wear because of the flexible rubber soles. They are also zipped in. They come in Brown and Black colors both with Pink flowers and butterflies appliqué. They range from $25 to $55 depending on size.
4. Jessica Simpson Changra Boot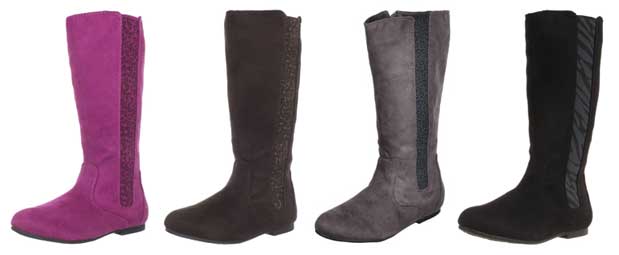 This next back to school boots that we chose is chic with a little touch of animal print on the side. Of course, they are from Jessica Simpson, the Changra Boot. Made of synthetic materials, suede and leather upper with fabric insets, the Changra are pull-on type of boots. They priced cheaply at $41.29 to $49.99 depending on size.
5. Skechers Tini Western Boot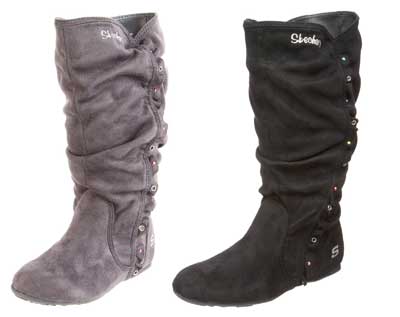 Last on our list is the Tini Western Boots by Skechers. We mothers want one of these! They have leather upper with on-trend slouchy shaft, as well as grommet ruffles that trails down the side of the shaft and have stud details. The flat soles and lightly cushioned foot bed make them comfortable to wear. These are great to pair with skinny jeans or leggings. These boots have been rated 4.8 out of 5 from satisfied consumers and are priced at $38.95 to $48.99. They come in Gray and Black colors.