Table of Contents
It's the Boys' turn! We scoured the web to find 7 cool back to school shoes for boys. From sneakers to skateboarding, leather boots to rain boots, and even running shoes, all are very much great for school. Let's get on with our list.
1. Pediped Flex Adrian Sneaker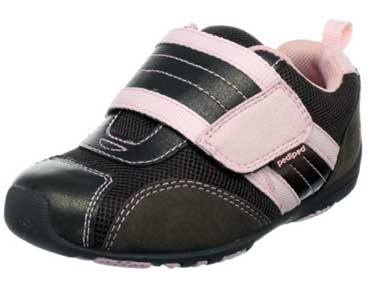 For a toddler, preschooler, or little kids, the Pediped Flex Adrian Sneaker is one of the cutest Best Selling back to school shoes for boys we have seen over at Amazon ranking #38 under Boys' Sneakers category. It also has been rated as 4.4 out of 5 by satisfied consumers and accepted by APMA and endorsed by researches affiliated by Harvard Medical School. This is mainly because it is made with combination of Leather and Fabric that are machine washable so maintenance is a cinch. The foot bed has anti-odor features that will surely make your kids' feet feel and smell fresh. No odor means no bacteria forming inside it. Aside from its many features, you will love the wide array of color combinations to choose from. There is the Brown (picture), Tan, Navy, Gray, Light Gray, and Fuchsia. It is also cheap for its quality. It is priced at $41.49 to %59.45 depending on the size.
2. Pediped Flex Jones Sneaker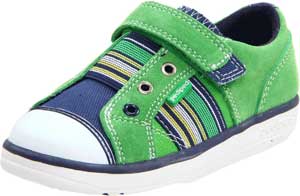 Another Pediped Flex Sneaker on our list of back to school shoes for boys, the Jones. Like the Adrian, it is made of Leather and Fabric with flexible rubber sole. It is actually lightweight that your kids think they can glide anytime of the day with it and feel the ground. You can choose from 4 colors available namely: Blue, Khaki, Green (picture), and Chiffon. It is also accepted by APMA and endorsed by researchers affiliated by Harvard Medical School. It is also a Best Seller over at Amazon ranking #1 in both Girls' and Boys' Racquet Sports Shoes category and rated as 4.2 out of 5 by happy customers. It is also very affordable ranging from $34.99 to $45.95 depending on size.
3. Ed Hardy Kids' Low Rise Sneaker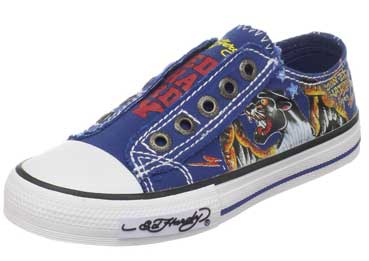 Next in our list of back to school shoes for boys is another highly rated low rise Sneakers from ED Hardy Kids from Embossed Tattoo Spring 2011 Collection. It is mostly made from canvas materials with rubber sole. It features eye-catching original panther graphics. It is lace less so putting it on is very easy for the boys and no tripping for untied shoelaces experience. The insole is lightly padded and has hidden elastic straps for comfort and custom fit. It also has flexible rubber outsole to withstand daily use. It is rated as 4.7 out of 5 and has seven colors available. They are Navy (picture), Purple, White, Yellow, Fuchsia, and Mint. It normally sells for $44. But during this post was made we found 11% savings and gives us a sale price of $39. (We hope you managed to grab the special price!)
4. DC Kids Court Graffik Skate Shoe
Next item in our list of cool back to school shoes for boys is a Skate Shoe from DC Kids, the Court Graffik. It is made from leather and heavy duty suede materials with sticky rubber sole. It makes it resistant from abrasions and scuffs. It also has foam-padded tongue and collar for added comfort and fit. This skate shoe is so well made that it has been rated as 4.7 out of 5 by consumers over at Amazon and has been sitting in Best Sellers list ranking #12 and #14 for Girls' and Boys' Skateboarding Shoes categories. You can choose from Black or White colors with different color combinations. It is in retail for $17.99 to $42 depending on size.
5. Adidas Adifast X Running Shoe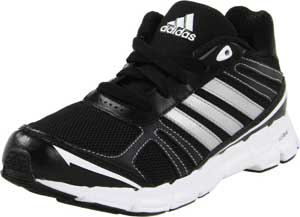 A running shoe is a great addition for the back to school shoes for boys' list. This is because a running shoe is comfortable for those heavy activities and rowdy playtimes. We chose Adifast X Running Shoes by Adidas. It has a mesh upper for keeping the toes cool and a lace-up closure which is great for teaching kids to tie their shoes. It has padded collar and tongue for cushion and comfort. Most importantly, it has rubber soles that flex for your sporty kid to move without worries. It is normally priced at $45. Currently it is on sale for $42.75 that is 5% savings over at Amazon.
6. Primigi Nico Boot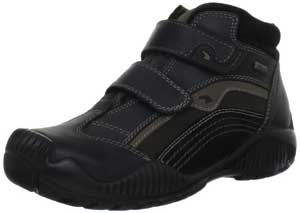 Next in our list of back to school shoes for kids is Primigi Nico Boots. It is made up of 90% leather and 10% fabric. Look at the fine details of this calf boot. What we like about the construction is that it has Gore-Tex membranes which make it breathable and waterproof as well. Sadly the Nico Boots comes with a $128 price tag. It is on sale for awhile for $124.95 to $127.43 depending on size.
7. Bogs Classic High Spiders Rain Boot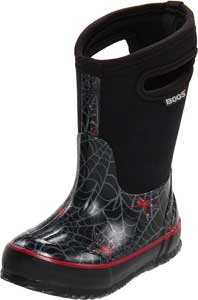 Oh we love these on girls, but wait until you see the boys'! Yes, Bogs Classic Rain Boots are also available for little boys. They have cute spider details but are not the usual Spiderman things. They come in Black (picture) and Gray colors. Bogs Classic High Spiders Rain boots are made of Rubber and Neoprene which makes it waterproof. It has a four-way stretch inner bootie which will not break and gives comfort over the rubber insides of the boots. It also has that wonderful Aegis anti-microbial lining for odor protection. The outsoles are non-slip and non-marking. And they also have that pull-on design on the sides so kids can easily pull them on. These Best Selling boots are so loved by consumers that they rated it as 4.9 out of 5 and have been listed as #7 in Boys' Rain Boots and #15 in Boys' Boots Categories. They are priced at $49.95 to $78 depending on size only.