Yesterday, August 29, 2012, The US Consumer Product Safety Commission and Health Canada, in cooperation with Summer Infant Inc., of Woonsocket, R.I., announced a voluntary recall of The Mother's Touch / Deluxe Baby Bathers of about 2 Million sold in the US and 65,000 in Canada over Mass merchandise stores and in the Web from September 2004 through November 2011 for between $15 and $30. The said recalled square blue or pink plastic baby bathers' frame could abruptly disconnected from the side hinge and drops the baby out of the bather posing a fall hazard and head injuries to infants. This happens when the baby is lifted or carried with the bather even though bathers manufactured after July 2007 include a warning saying "Never lift or carry the bather with infant in it."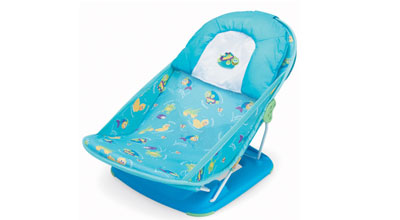 In the US alone, 7 reports of incidents were received by CPSC and Summer Infant including five reports of infants suffering head injuries from falls from the bathers. Four of them received skull fractures including one that required intensive care for bleeding in the brain, and the fifth received a head bump which required emergency room treatment. It is therefore advised to stop using the recalled Summer Infant Mother's Touch / Deluxe Baby Bathers until the repair kit is received and installed.
The affected models numbers for the baby bathers are:
08020, 08050, 08054, 08070, 08401, 08409, 08404, 08405, 08650, 08655, 08659, 08754, 08940, 08944, 18004, 18040, 18049, 18050, 18120, 18125, 18129, 18254, 18360, 18375, 18379, 18390, 18394, 18440, 18445, 18449, 18470, 18475, 18479, 38510, 38515, 38750, 38755
The model number can be found at either the side of the baby bather near the warning label or the front near the wash instructions. Some units have multiple model numbers, or with additional letters at the end of a model number, they are also included in the recall. The affected baby bathers do not need to be returned and cannot be refunded. Instead, repair kit must be requested through Summer Infant's recall page or call (800) 426-8627 between 8 a.m. and 5 p.m. ET Monday through Friday.
For more information about the recall or report any incidents regarding the Summer Infant Baby Bathers visit CPSC and Health Canada sites or call at these hotlines:
Firm's Recall Hotline: (800) 426-8627
CPSC Recall Hotline: (800) 638-2772
CPSC Media Contact: (301) 504-7908
HC Media Contact: (613) 957-2983
Even though the repair kit is installed or the baby bather is not included in the recall, do not lift the baby bather with the infant in it. Any hazard is preventable especially if warnings and instructions are followed.