Table of Contents
For practical moms out there, having a great piece of inexpensive and flexible playpen is what they need for their baby. The Evenflo Portable BabySuite 300 is exactly that which provides parents the convenience of having a bassinet, changing table, playard, and on the go playpen all rolled into one package. Let us explore all the goodies this product has to offer.
Versatility
The Evenflo Portable BabySuite 300 grows with your baby. It can accommodate infants to toddlers of up to 3 years old or until they cannot get out of the playpen yet. It can function as a bassinet, changing table, and playard for baby.
It can be used as the main bassinet or an alternate one if you and your baby seem to move around the house or travel a lot. The bassinet clips on two ends and zips down along the sides making it sturdy to accommodate by an infant. The baby should be less than 15 pounds or 6.8 kg of weight or when he is able to push up on hands and knees.
The Evenflo playpen has a changing table feature. It can rotate to the side for conveniently stowing it away after diaper changes and can be put instantly back when needed again. The changer can only be used for babies up to 25 pounds.
The actual playard for baby is huge enough to be used daily, whether as the baby's main crib or an alternative on other rooms or place. The baby should be less than 35 inches or 89 cm in height and 30 pounds or 13.6 kg in weight or when the baby can climb out of the playpen already. Like my son, when he was only less than two, he was only 15 pounds and less than 35 inches tall he managed to climb out of his playard. So I decided to get rid of it already.
Storage
The Evenflo Portable BabySuite 300 has good storage bins or soft console. They are so useful for storing diapers, ointments, a few clothes, and wipes that are good to have around and retrieve easily when the baby needs quick diaper changes or clean-ups. The only problem with this storage is that when the baby can stand up, it can easily reach into it and grab anything in there.
Portability
The Evenflo Portable BabySuite 300 is portable enough to be lugged around the house or for travel. It measures 30 x 43 x 32.5 inches. It only weighs about 23 pounds much like a standard full-sized stroller. It even has a bag to make storing and travelling easier. It even has wheels so that it can be mobile and not think of assembling and reassembling it if necessary.
It is easy to set it up and take down that even pregnant mothers can handle it. After installing the wheels and feet, unsnap the Velcro attaching the floor mat, separate the corners and pull each side until they become stiff, and then push the center that will keep the playard upright and stand sturdily. Then attach the metal bars for the palyard floor mat, and then put it inside the playard and fasten it on the corners with the provided Velcro. Easy, right? It may take you 20 minutes or so the first time, but it will be quicker on the next and follow the instructions in the manual.
Enjoyable Playtime
The actual padded floor mat of the Evenflo Portable BabySuite 300 can be converted into a Playtime Playmat that you can set on the floor to have a cleaner and safer play space for the baby. The toy bar that has two toys on the playard can be detached for baby's entertainment. You can use these items even if the baby has outgrown the playard.
Fabric Options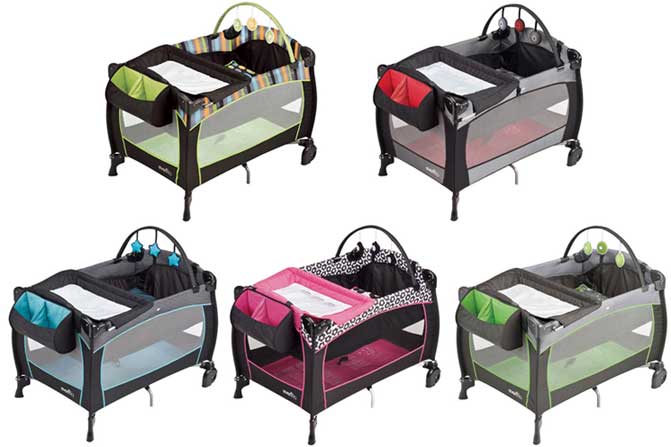 The Evenflo Portable BabySuite 300 comes in 5 different colors and designs. They are the Crayon Scribbles, Gears, Koi, Marianna, and Pinwheel. When this post was made only the three last designs are available over at Amazon. Click the Order button below to check if other colors are available.
The fabric of the BabySuite 300 is also easy and quick to clean. Use cold water and mild soap in cleaning and removing stains on cloth, vinyl, and plastic surfaces, then air dry.
Pros and Cons
Pros
Easy to set up, even a pregnant woman can do
Attractive designs and colors
Easy to move around
Inexpensive
Sturdy and good quality
Easy to clean
Cons
Velcro are easily removed
Foam looks like it is made of cheap material
Changer looks a bit shallow
Storage can easily be accessed by tall babies
Consumer Ratings
The Evenflo Portable BabySuite 300 was rated as 4.7 where 78% think it deserved a rating of 5. It has also been sitting in the Best Sellers list ranking #36 in Playards category.
Evenflo Portable BabySuite 300's Price
The Evenflo portable BabySuite 300 is normally priced at $99.99. When this post was made it is on sale for $94.99 giving you 5% savings. Click on the Order button below to check for great deals over at Amazon.
Like the BabySuite 300?
For those who are in the fence and could not afford to get real furniture for the baby, have less room for baby's space, travels often with the baby, the Evenflo Portable BabySuite 300 is for them. It is stylish and versatile that it is surprisingly cheap compared to other brands portable playards.