Britax created a one of a kind modular single stroller that has the capability to grow with your baby from infant to toddler years, the B-Ready Stroller. The smart design of the B-Ready lets you configure it on 14 different orientations where parents can happily position their kids to their liking. It also has the capability to be transformed into a travel system and in-line or tandem stroller to accommodate another member of the family. But if you happen to have twins, this is also great. You can actually save if you manage to buy the through Britax's Free Ride Event.
B-Ready Stroller was first introduced back in July 2010. With its adaptability features that so many families have enjoyed it, Britax decided to release the more improved version of the B-Ready last April 23, 2012. Below are some of the new and retained features that the Britax takes pride on.
Britax B-Ready Stroller Technical Specification
| | |
| --- | --- |
| Capacity | birth up to 55 lbs |
| Product Weight without Canopy | 26 lbs |
| Folded Dimensions with Top Seat | 30 x 16 x 26.5 in |
| Folded Dimensions, Frame Only | 34 x 12.5 x 26.5 in |
| Seat Back Height | 21.5 in |
| Seat Area Depth | 9 in |
| Seat Area Width | 12.75 in |
| Harness Slot Heights | 10.5 / 12.5 / 15 in |
| Buckle Strap Depth | 4.5 in |
| Color Options | Black, Navy, Red, Silver, Twilight |
Foam Filled Rubber Tires
One of the best improvements that the Britax made on the B-Ready Stroller is the new rubber tires. On the older version, the tires were made from the usual non-inflatable plastics that are quite flat. These new tires are also filled with foam and are rounded. These help in cushioning the stroller so as to help make the ride smooth.
If you happen to own the old version, Britax made available the B-Ready Wheel Kit so that you can update your old wheels and still enjoy the benefits of your old stroller. It comes in Black and is regularly priced at $89.99.
Improved Shock Absorbers
The B-Ready Stroller 2012 version can go through different terrain much better because of the improved shock absorbers. It lessened the bumpy feel for the kids.
Helping the shock absorbers is the 4-point suspension. Each wheel has its own suspension making the stroller look like an all-terrain stroller.
Top Seat's 4th Recline Positions

The Britax B-Ready Strollers reversible top seat used to have three reclining positions. This is standard of most strollers. But the old version's most upright was not that upright and a lot of consumers where not happy about it. So for the 2012 version, B-Ready has a 4th reclining position which is more upright than the former. This is great for kids who want to be seated in a straighter position to see everything you both pass. This straight position is not necessarily on a 90 degree angle.
Also, for the top seat, the foot rest is adjustable. It will enable you to tweak it in order to give a much more comfortable position for your baby's feet.
Accessible Large Storage
Like the other Britax Strollers, the B-Ready has an improved basket design different from the old version. It can still be accessed in the front, back, and even the sides. The improvement is that it is much deeper and the zippers are improved. The deeper basket makes more room both for storage and accommodating the feet of the second kid below.
New Easy Open Buckle
Another improved feature on the 2012 B-Ready Stroller is that the buckle is easier to open. A lot of parents were unhappy with the old buckle which was so hard to open and it is such good news when Britax improved this feature.
Still, like the old version and like the other models, the B-Ready's five-point harness and head pad are adjustable and do not require re-threading. It straps the baby snuggly and comfortably and allows parent to easily adjust the straps without removing them from the slots.
Integrated Adapter System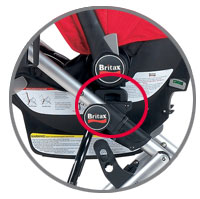 Like the other Britax models, B-Ready Stroller is equipped with the CLICK & GO adapter system.  This feature is what makes the B-Ready so modular. The integrated receivers will allow you to position the seats facing forward or backwards, attach a bassinet, or infant car seats. This will allow you to make comfortable orientations for viewing your baby or create a travel system easily.
The B-READY stroller accepts the BRITAX CHAPERONE and B-SAFE Infant Car Seats as well as the Bassinet without having to purchase additional adapters but these are sold separately. If you want to get these attachments for free, check out the Free Ride Event that Britax conducts every now and then.
14 Different Configurations
One of the reasons why the B-Ready gained its popularity back in 2010 and still being enjoyed today is because of its modular design. As mentioned earlier, the B-Ready can grow along with your baby or accommodate another as your family grows. Not only do you have so many options in changing how you want to position the top seat, but you can add bassinets or infant car seats as a travel system or combo stroller, and also add a second seat for your other baby. Check out the picture and table below and see all 14 variations. Take note on the accessories you have to purchase for certain configurations that you like to apply.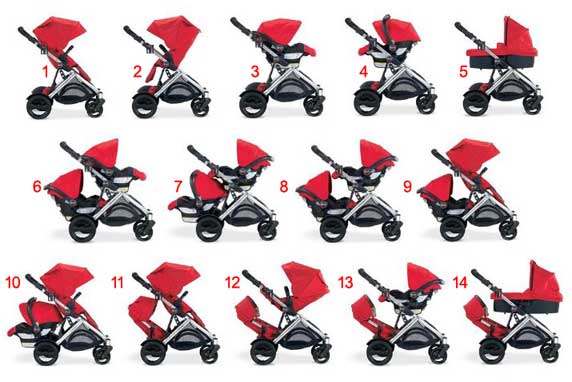 | | |
| --- | --- |
| No. of Configuration | Accessory Needed |
| 1, 2 | None |
| 3, 4 | Chaperone Infant Car Seat |
| 5 | Bassinet |
| 6, 7, 8 | 2 Chaperone Infant Car Seat, Lower Infant Car Seat Adapter |
| 9, 10 | Chaperone Infant Car Seat, Lower Infant Car Seat Adapter |
| 11, 12 | Second Seat |
| 13 | Chaperone Infant Car Seat, Second Seat |
| 14 | Bassinet, Second Seat |
Infant Car Seat Adapter Frame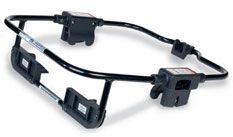 Since the CLICK & GO adapter system is only compatible for Britax products, the B-Ready Stroller can adapt with infant car seats made by other manufacturers. This is the Infant Car Seat Adapter Frame. Although sold separately at $49.99 (regular price), B-Ready Stroller will let you use your already bought Chicco Key Fit, Chicco Key Fit 30, Graco Snugride 32, Graco Snugride 35, and Peg Perego Primo Viaggio attachment systems. This will allow you to save from purchasing additional car seats. This frame can support babies weighing up to 35 pounds.
Separate Sizeable Canopies with Vents
Britax B-Ready Stroller like other Britax strollers includes a huge canopy for top seat and second seat. It also has a sun visor which is so good for protecting babies from the harsh sunlight, and ventilation window that is made of mesh materials which enables parents to view their kids or simply let air pass through. The ventilation window has a magnetic enclosure as opposed to Velcro like the B-Agile Single and Double Stroller and won't disturb the baby when he is asleep.
Simple Fold with Automatic Chassis Lock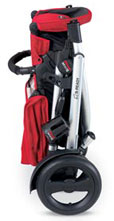 All Britax strollers have the ability to be simply folded with minimal effort. This is one of the features that parents rave about the B-Ready Stroller which requires two hands. This will enable parents to actually fold the stroller without fussing over the many attachments and accessories and still be able to do it in less time. Also, the folded stroller can easily be tucked for storage in a standing position or stowed in the car trunk lying flat. The automatic chassis engages when the stroller is fully folded and will not let the rest of the frame to open back up while stored. The only downside is that when the folded B-Ready with the second seat is in standing position, the second seat's canopy tends to touch the ground. You want to watch out for this because that canopy will easily get dirty.
Adjustable Padded Handle
Tall and short parents always complain about the standard height of most strollers. Simply put, they are not ergonomically designed for them. But clever Britax made sure that its strollers have solution to this problem and that is adding adjustable handle height. It is able to adjust four points up and four points down. More so, the handles are enveloped in thick foam like materials to make the handle grip much more comfortable. The only downside of the handle bar is that it does not slide or extend outward because when the second seat is attached, parents have the tendency to hit it with their shins or legs. So Britax should be improving the handle bar to make room for the second seat and parents stride.
One-Step, Linked Parking Brake with Indicator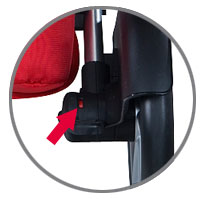 The B-Ready is equipped with innovative linked parking brake with indicator. Other strollers usually have a plastic flap on each wheel to make sure that the stroller is halted. The right rear wheel has that feature where one step will indicates red which denotes that the stroller is parked or stopped, and another step indicates green which denotes that the stroller can move.
Fabric Options

The fabric options for the B-Ready Strollers are Black, Red, Silver, Twilight, and the latest, the Navy. You can also pair it with second seats of the same fabric color or same palette. Do note that Britax can stop manufacturing certain fabric colors whenever they seem necessary.
B-Ready Parts and Accessories
Britax B-Ready Stroller has included CLICK&GO car seat receivers and Adult Cup Holder upon purchase. But the other accessories are sold separately.
Infant Car Seat Frame, $49.99
B-Safe Infant Car Seat, $179.99
Chaperone Infant Car Seat, $229.99
Stroller Bassinet which comes in Black and Red, $149.99
B-Ready Second Seat which comes in Black, Green, Mediterranean, Navy, Pink, Red, Silver, Twilight, $149.99
B-Ready Lower Infant Car Seat Adapter, $79.99
Head & Body Reversible Support Pillow which comes in Ivory/Gray, $29.99
B-Ready Wheel Kit which comes in Black, $89.99
B-Ready Full Rain Cover, $49.99
B-Ready boot Cover which comes in Black, Green, Red, Silver, $39.99
Stroller Board which comes in Black, $89.99
UV mosquito Net which comes in Black, $39.99
Child Cup Holder Set which comes in Black, $19.99
Stroller Organizer which comes in Black, $29.99
Pros and Cons
Pros
better seat upright position
better tires and suspension
less squeaks
durable enough to have long lifespan
better buckle, easier to open than the old model
accessible and bigger storage basket
adjustable parts are easy to use and configure
modular design
has adjustable handlebar
magnetic closure on the large canopy peek-a-boo window
able to put infant car seat below
can accommodate two infant car seats
practical for two kids
Cons
cup holders are on the side instead of the front in a tray
other accessories do not come in specific colors same with B-Ready's fabric options, tendency to mismatch
expensive because you have to buy additional accessories to accommodate another child or turn it into a travel system
What is a Free Ride Event?
Being an adaptable and configurable stroller, Britax lets you save up to $230 and take advantage of B-Ready Strollers by offering B-SAFE Infant Car Seat, CHAPERONE Infant Car Seat, Second Seat, or Bassinet for free whenever you purchase it. From time to time, Britax makes this offer. Keep in mind that this offer is usually available on the dates set by Britax or when stocks last.
Consumer Ratings
Consumers rated the old version of B-Ready as 4.3 where 59% rated it as 5, while the new version has been 4.8 where 83% have rated it as 5. Based on the ratings, you can see that the improvement made huge changes for the consumers.
The B-Ready has also been ranked #89 amongst the Best Sellers in Standard Stroller category in Amazon.
Britax B-Ready Stroller's Price
Britax B-Ready Stroller 2012 is still priced at $499.99. But during the post is made, Amazon offers 20% savings plus free shipping on the new B-Ready which is priced at $398.88. Also, this is eligible in Britax's Free Ride Event.
Overall Impression on the 2012 B-Ready Stroller
If you want a stroller that can adapt with your lifestyle and grow as your babies do, then the B-Ready is the perfect stroller for you. I think, the mere fact that you have so many options to manipulate the look and position of seats and its other attachments, is the best type of stroller product anyone should get.
The B-Ready Stroller is a good and sturdy single stroller, but can be looked as expensive as compared to other standard strollers. But with the new improved features and recurring promos of Britax, it actually is a practical standard stroller that is capable of being a travel system, combo stroller, and tandem stroller. I think with the right timing and planning, you will not regret on investing in the B-Ready.