Baby Jogger made some bold moves in releasing three City Minis with few upgrades from 2011 to 2012. The City Mini Single of 2011 was so successful that Baby Jogger made a few adjustments that addressed the concerns of many fans of the City Mini. One of these is the redesign of the storage basket. Also, the new Baby Jogger City Mini is relatively bigger to accommodate bigger toddlers.
In March 15, 2012, Baby Jogger finally released their new City Mini stroller, the GT. The GT stroller may be similar to the City Mini 2012 but the features are amped up. Some of the key features in the City Mini GT as compared to the City Mini are bigger seats, adjustable handlebar, and hand-operated parking brake.
The said stroller is said to be a mix or hybrid of the City Mini Single and the City Mini Elite. Below is a detailed review, both positive and negative of the Baby Jogger City Mini GT of 2012.
Bigger and Better Storage
One of the best features of the new Baby jogger City Mini GT is the improved storage basket that the 2012 City Mini also has. It is larger and more accessible compared to the 2011 City Mini. It has a U-shaped bar in the back of the stroller which astoundingly created more space because it dips downward. The U-shape also gives parents better access when the seat is reclined. It even has locks when it is closed.
In addition to the basket, the City Mini GT also has a backseat storage compartment for additional storage space. It is a mesh pouch that can fit bottles or a few knick knacks for the baby.
Adjustable Handlebar
As compared to the other City Mini models, the GT has an adjustable handlebar. This is one of the great features why the GT is now getting popular. This caters of all height of parents. It adds comfort in handling and steering the stroller.
Hand Operated Parking Brake
One of the unusual but great features that the Baby Jogger City Mini GT has is the hand-operated parking brake. Most strollers have their brakes on the rear wheels. It is actually a flip up brake on the handlebar that the City Mini Elite also has. This is great for those who would rather do simple braking using a hand rather than get their flip flops snagged at the foot brake.
Padded Reclining Seat
The Baby Jogger City Mini GT has retained the best of Baby Jogger's plush seats. This makes the baby feel comfortable, snug and secure at the same time. The seat can be reclined to an upright position to a near flat position that is great for napping and is recommended for babies under 6 months.
Adjustable Five-Point Safety Harness
The Baby Jogger City Mini GT is also equipped with a five-point safety harness. This harness is adjustable and is easy to buckle and unbuckle. With the no re-thread technology incorporated by Baby Jogger like other brands, it will not be hard for parents to make adjustments to secure the baby in it. Also the buckles and straps have buckle cover and shoulder pads. This adds comfort for the baby as well.
The downside on the GT's harness design is that when a small baby is strapped in the head tends to bump on the straps. The straps are up to the ear or sometimes higher than that. The shoulder pads are great but some kids find it irritating and uncomfortable. So we recommend for you to test the stroller with your baby on it if you get a chance to test drive one.
Large Multi-Position Canopy
The Baby Jogger City Mini GT has huge canopy. I mean it is really huge that even toddlers are protected from drizzles except probably for his shoes. Also, it has two peek-a-boo windows that are enclosed with Velcro. This will enable you to see your kid since the stroller is faced forward.
The canopy can also be rolled up from its back to reveal a bigger mesh ventilation. This is great for the summer and let air flow through.
Patented Quick-Fold Technology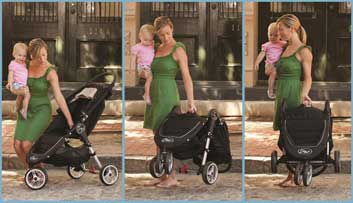 One of Baby Jogger's original technologies for full-size strollers and what makes it apart from others is the ability to make quick folding. Like any other Baby Jogger stroller, the GT can easily be folded using one hand. Some strollers take a few steps or ask you to remove some parts before making it compact. But the GT can be stowed easily on your trunk or take less space when being stored.
One folded the City Mini GT is secured by a removable auto-lock to keep the stroller folded.
Forever-Air Tires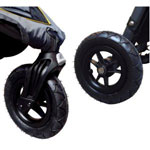 One of Baby Jogger's great features on their City Mini GT is the three forever-air tires. They are 8.5 inches in diameter with sealed ball bearings. They make riding through different kinds of urban terrain feel like gliding on smooth roads. Also they have a quick-release capability and the sizes alone are for more compact folding or for easy replacement due to wear and tear (assuming you use it in many years to come).
Front Wheel Suspension
One of the best features of the City Mini GT and also improved on the new City Mini 2012 is the front wheel suspension. This primarily provides a smooth and comfortable ride. It is able to be an all-terrain stroller but not like a real jogger stroller.
Swivel Front Wheel
The lone front wheel has superb swiveling for quick and agile maneuverability. It can also lock into place for long distance strolling or for parking. Although it is not a fully fledged jogging stroller, it can go through hiking trails, hard pack gravel, or any dirt trail with ease. This is the best upgrade that parents love from all City Mini models and not giving up the love to go a little off road.
The only flaw that the City Mini GT has with the front wheel is the locking mechanism. The mechanism that holds the lock down or OFF position stops working, so the front wheel would lock anytime. This of course cancels out the swivel effect of the wheel. If in case you encounter this, call Baby Jogger excellent customer service and will gladly send you a new wheel which you can snap easily in place. For now, it is a flaw that the Baby Jogger will eventually improve.
Car Seat Adaptors
Both the City Mini Single and the GT strollers can accommodate car seat via car seat adaptors making a standard and full-sized stroller into a travel system. But depending on the brand of the car seat, it is best to get the most appropriate one for proper fit. Also, each adaptor is easy to snap or remove for interchanging them. One car seat only will fit on the City Mini Single and Double Series. Each car seat adaptor is sold separately for $69.99.
Car Seat Adaptor (Multi) – Fits with car seats from Peg Perego, Maxi Cosi, Graco, and Evenflo
Car Seat Adaptor (Chicco) – Designed for Chicco brand infant car seats only
Universal Accessory Mounting Bracket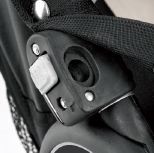 Although the Baby Jogger City Mini GT does not have the usual cup holders that other brands offer, it has a universal accessory mounting bracket which makes accessorizing the stroller with ease. Parents will have more room and more options on what frills suitable for them and their baby's use.
Fabric Options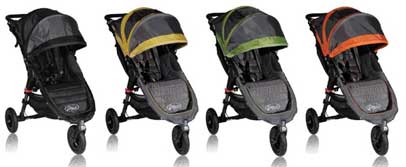 The Baby Jogger City Mini GT comes in 4 fabric option and combinations. These are Black/Shadow, Shadow/Bamboo, Shadow/Green, and Shadow/Orange. In actuality, the GT is limited to Shadow colors with just little colored trimmings. Hopefully, Baby Jogger will release more colorful and solid colors for the GT in the future.
The fabric is also easy to clean. So spills and stains are not hard to get rid of.
Baby Jogger City Mini GT Technical Specifications
| | |
| --- | --- |
| Capacity | 65 lbs |
| Unfolded Dimensions | 30-43.5 x 44 x 24.5 in |
| Folded Dimensions | 31.5 x 9.75 x 24.5 in |
| Seat Back | 21 in |
| Head Height | 26 in |
| Shoulder Width | 13 in |
| Seat to Knee | 10 in |
| Knee to Footplate | 10 in |
| Width at Knee | 14 in |
Accessories and Parts for the Baby Jogger City Mini GT
Most of the accessories for the City Mini Series are compatible with the GT model.
Car Seat Adaptor, $69.95
Rain Canopy, $44.95
Compact Pram, $169.95
Bassinet, $259.95
Belly Bar, $34.95
Belly Bar Console, $34.95
Child Tray, $24.95
Glider Board, $79.95
Carry Bag, $54.95
MP3 Console, $54.95
Plush Stroller Hand Muff, $44.95
Foot Muff, $74.95
Parent Console, $34.95
Liquid Holster, $24.95
Cooler Bag, $24.95
Seat Support, $8
Safety Concerns
Few parents are starting to notice that the Baby Jogger City Mini GT has balancing issue. Of course this is such a huge safety issue. The stroller tends to tip backwards especially when it is fully reclined even if there are no added weights on the backseat's storage or on the handle. It also proves that older toddlers in this position add weight forcing the stroller to tip. This is unsettling and put parents on the edge. This tipping issue has not yet been addressed by Baby Jogger themselves.
As a new product, there are some possible flaws to it. It is understandable if Baby Jogger did not manage to see the tipping issue prior to its release. It may just on certain serial numbers or maybe a fluke. But Baby Jogger has a reputation for their design and customer service. So if you will still take a risk on the City Mini GT, we recommend you to be vigilant about it. You will help Baby Jogger improve the GT's design and other parents will benefit from it.
We will post an update about this as soon as this is resolved.
Pros and Cons
Pros
quick and small fold
huge hood
easy to push
 firmer and taller seat with extra padding
More accessible and bigger basket
hand break
All City Mini accessories can be used on the GT
Great customer service from Baby Jogger
Easy to change from one adaptor to another
Cons
magnets instead of Velcro for the ventilation windows on the canopy
fabric options are bland
front wheel locking issue
safety issues: possible tipping
Consumer Ratings
In just five months after its release, the new Baby Jogger Stroller, the City Mini GT has been rated 4.6 where 77% says it's a 5 because of its all terrain capability and tolerable weight.
Baby Jogger City Mini GT Price
With all the new features incorporated like the City Mini, the Baby Jogger City Mini GT is in retail for $349.99 which $100 more than the regular City Mini Single Stroller. For now, there are a few discounts on it when this post is made. But if you will click on the Order button below, you might chance upon some savings through Amazon.com.
Overall Impression on the City Mini GT
Although the City Mini GT is not a jogger stroller, it can keep up for families who love to go through a little off road or on urban outdoor terrain. It works well for those who want features from both City Mini and City Elite because it is both lightweight for indoors and enough bulk for all-terrain. It gives you the best of both worlds. It is also a stroller that can grow with kids from infancy to toddler years. It is so well made enough that will last any family needs.