The Deluxe Light Up Flutterbye Fairy from Spin Master is included in 2014 Walmart's Top 20 Toys Chosen by Kids, and 2014 Holiday Toy List by Amazon.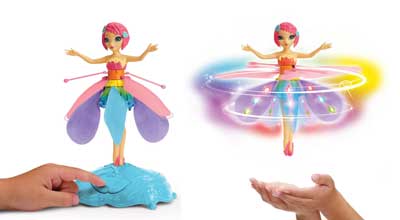 Flying fairy toys for girls and helicopters for boys, actually, this flying fairy can be enjoyed by both. But the difference of this fairy to a helicopter is that it is not controlled by a remote control. It just flies up straight when released from its base. The base is the only control for kids to make it come down. The way it can hover on a kid's hand seems like magic.
Also, the 2nd generation Flutterbye Fairy lights up. So, when it is flying, it feels like a Tinkerbell's friend came out to play with its light adding to the magical feel.
Below is the demo on how to use a Flutterbye Fairy.
The Deluxe Light Up Flutterbye Fairy is priced $39.99 but is on sale for $29.67 during the time of posting.
Some things you have to take note when purchasing this product:
6 AA batteries required which is not included in the box set.
Use indoors only
Recommended for kids ages 5 and up
It can crash or collide onto a wall, it is ok, its durable material will not damage
Images courtesy of Amazon and Video courtesy of YouTube/ WatchGearshiftVideos