Who hasn't played a paperclip doll when they were little? I did, many times. They were cheap and have loads of accessories. The problems with paper dolls are that they can break once there paperclips start to tear due to too much folding, and the dolls don't really stand on their own so they playing and displaying the dresses can be a little less fun.
But Mattel created stunning collection of Disney Princesses with Clip-on Dresses. Now these are not your ordinary Barbie Dolls. Their dresses can be changed but if you are not a fan of fabrics, girls are better off playing with these new MagiClip Dolls. Their accessories and clip-on dresses are made up of plastic which is more durable, easy to clean, and helps the dolls to stand upright.
Simply press the skirt and the dress opens up at the neckline to the shoulder area so you can slip the doll into or out of it. Although they are only about 4 inches tall, these dolls are enough to make your preschool girls busy playing dress-ups and admire the iconic dresses of each princess.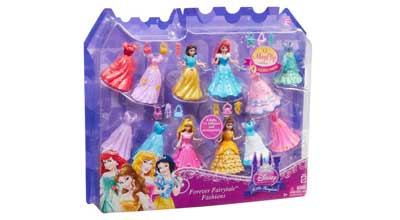 To start of a collection, we recommend Disney Princess Little Kingdom Fairytale Fashion Pack which includes Snow White, Ariel from The Little Mermaid, Aurora from The Sleeping Beauty, and Belle from Beauty and the Beast is enough to start a collection or just surprise a little girl with it. It is normally priced at $42.99 via Amazon.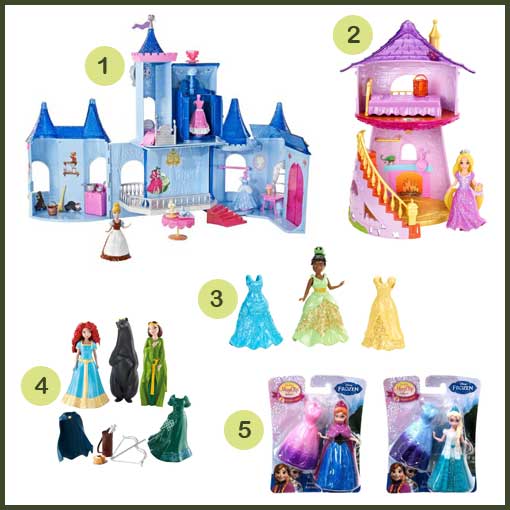 If you want to add the collection, try add the following Disney Princesses and enjoy exchanging their dresses and play with their castles and carriages.
Things to take note when purchasing these toys:
Be careful of the little accessories like bags and tiaras that can be swallowed by the little ones.
The clips are plastic as well, when the dresses come apart; they still can be snapped back again.
If the clips start to loosen, use thin rubber bands to tie and hold them.
Set aside a small container or a bag for easy storage of the whole lot.
Images courtesy of Amazon and Mattel