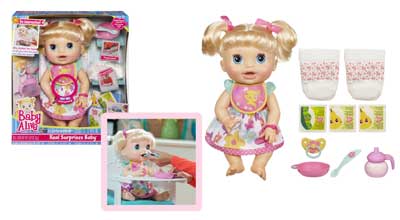 The Baby Alive Real Surprises Doll has been picked by 1000 kids as Walmart's Holidays Top Toys for 2013 for ages 18 months to 2 years, and included in 2013 Holiday Toy List by Amazon.
Gone are the days when a doll says "Mama" or merely blinks, the Baby Alive Real Surprises Doll can be fed, diaper-changed, and giggles when tickled.  This doll is surprisingly mimicked that of a real baby, making a girl feel like taking good care of a real alive baby than just playing a game.
Check out a demo video below.
Little girls do love role playing, and through role playing we can teach them the value of nurture and being responsible of what we have. This is also a good training for children who will soon have additional siblings.
The only thing that is not so good with this toy is that it can be too real in terms of costs because of feeding and diaper changes. We all know how much diapers cost, so this doll's accessories can be a pain. If only they could create cloth diapers as accessories then this doll will be rated as a wonderful Holiday Toy for 2013 for parents as well.
The Baby Alive Real Surprises Doll is sold for $54.99, but during the time of writing this post it is for sale for $49.97.
Baby Alive Dolls have been around since 1973 by Kenner and then  reintroduced by Hasbro in 2006. Since then, the dolls have become more and more sophisticated and are continuously becoming more real looking dolls. Other Baby Alive Dolls include Baby Alive Learns to Potty, Baby Alive Baby's New Teeth, and Baby Alive Bouncing Babbles.
Images courtesy of Amazon and Video courtesy of YouTube/EngineeringFamily