Table of Contents
When you are purchasing a car, not only do you let budget predict the outcome, but you also check out all the types and models that are available, right? Would you get a two-seater, four-seater, five, ten, or twelve-seater? How many people are going to accommodate it in a regular basis? Should you get a mini-car, a sedan, an AUV, or a SUV?
Like a car, baby strollers have so many variations and kinds. All offer the benefits of being the best stroller out there. But these different types of strollers have evolved based on the needs and lifestyles of consumers worldwide. I did mention factors that could help you trim down your search of the most suited baby stroller for your kids, but this in this article, we will further breakdown that search.
Standard Strollers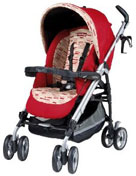 Standard Strollers come in many different styles, features, and designs. But these types of strollers have sturdy frames, usually metal. If you saw a stroller that has features such as padded seats, sun shades, has storage underneath, can recline the seats, able to shift the orientation of the baby facing you or facing the other way, easy to push and maneuver, then that is a Standard Stroller.
This type of strollers is the most basic and has the capability for your infant to grow into their toddler years. This will enable you to maximize its lifespan as you will no longer have to purchase another one. It is also built to be easily folded for portability.
Price Range of Standard Strollers can be as low as $25 and as high as $1200.
Prams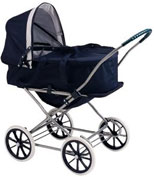 During the Victorian Age, Prams were built. They usually look like a basket with wheels. Some manufacturers call them Baby Carriages. Up to this date, some still look quite traditional and Victorian. They are great for long leisure walks or early morning walks for newborns. They are built to have the comfort and security that the baby wants. Their "bassinette" or seats are fully reclined to let the baby lie in it. This is not a good option if your child starts to sit and crawl.
But there are a lot of prams that are now built to last for a few more years as was intended. Some Prams are convertible so they can grow with your child until his toddler stage.
Price Range of Prams can be as low as $50 and as high as $1140.
Travel Systems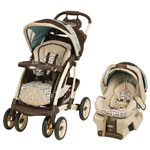 Travel Systems work great for families that travel a lot. They have storage units and can be folded easily for storage. They are therefore bulkier and usually more expensive. But it will definitely give you more benefit for your money.
Travel Systems are quite similar with the Standard Stroller with the exception of a car seat. The car seat easily clips on the base of the stroller. This is great for sleeping infant on a car seat that parents could transport him with ease and without disturbing him. When the baby outgrown the car seat, he can use the stroller like any other strollers until his toddler years.
This is what I purchased for my son. For me, it was a great deal because my son managed to use it from his infant to toddler stage. The car seat fit in the car and has the ability to rock when I settle him on a flat surface like a totter. When he was about four months, he started to use the stroller when we travel.
Price Range of Travel Systems can be as low as $120 and as high as $1400.
Combo Strollers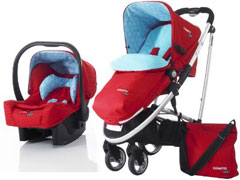 A Combo Stroller is actually the combination of a Standard Stroller, Travel System, and Pram. Unlike the Travel System, a Combo Stroller has a bassinet or additional car seat adapter for it. This type of stroller is great for parents who wanted to invest in one stroller from baby's infancy until the toddler years. Simply attach the bassinet or car seat onto the frame then use the standard stroller when the baby is able to sit upright.
Like the Travel System, this stroller is great for travelling. But since the early stages needed the bassinet and/or the car seat, it can be spacious or cannot fit (at times) inside your vehicle. Also, during folding, you have to remove each part (bassinet / car seat) before storing the entire stroller away.
Price Range of Combo Strollers can be as low as $40 and as high as $1200.
Car Seat Strollers Frames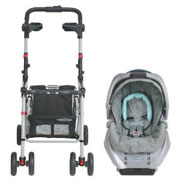 Car Seat Stroller Frames are just a variation of the stroller. They are actually metal frames designed to carry specific car seats. Like the Travel System or Combo Stroller, simply clip the car seat onto the base frame. This is also good for travelling. The frame is very simple so it can easily be folded and stored away. Also, babies on car seats can be transferred on the frame without disturbing them when they are sleeping. The only downside is when your baby outgrew the car seat, he cannot use it anymore and you would have to use a bigger stroller appropriate for the baby's age.
Price Range of Car Seat Strollers can be as low as $30 and as high as $1200.
Lightweight Strollers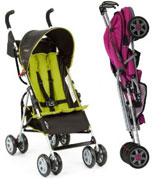 From the name itself, Lightweight Strollers are very light in terms of their product weight, as light as seven pounds. They are usually composed of a frame, a cloth/canvas that looks like a sling, handles, wheels, and safety harness. There are those who also offer front bar and canopy. Some manufacturers call them Umbrella Strollers because they simply fold like an umbrella. They are so convenient that they can easily be tucked away and stored in small places. They are also easy to steer and navigate.
Lightweight or Umbrella Strollers are the cheapest of all types of strollers. This is because of their construction and frame. But there are also limits. One of which is that it cannot be used by babies that cannot support their backs and cannot sit upright yet. Infants cannot use this type of stroller because it cannot be reclined. Some models can have tilting features but do not lay flat like other strollers. And since it is lightweight, it cannot accommodate all ages and sizes of toddlers. So, it is a must that you check the model that is appropriate for the age and his size for the safety of your kid.
Another limit of this stroller is that it is not that comfortable to use. Because of the sling like canvas and basic frame, they do not have enough support and suspension. It can be great for quick trips though.
Lightweight Strollers are great as second strollers for your growing kids and in case where you have another infant for your bigger stroller.
Price Range of Lightweight Strollers can be as low as $15 and as high as $1000.
Jogging Strollers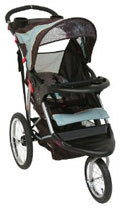 For families that are sporty and quite active or simply love to tread on rough grounds, the Jogging Stroller best suits them. They are generally large, have lightweight frames, have three bigger air-filled tires, and can handle different types of terrain. The triangular shape implies stability and maneuverability on street curbs or simply pivoting.
Different brands of Jogging Strollers offer different wheel options such as locking it for high speed runs, unlocking it for swiveling. So if the front wheel did not swivel properly, then handling the stroller could be difficult. It is recommended to confirm these wheel features when purchasing a Jogging Stroller.
For safety purposes, the Jogging Stroller has an emergency strap to prevent the stroller from getting away from you during your activity or the five-point harness for the baby, making sure that he is tied inside it. Also, they have additional features like see-through rain shields and canopies to protect your kids from unexpected weather changes and still see them.
Jogging Strollers are great for all babies' ages. But lay extra care with infants or younger than 6 months. If possible, purchase additional parts such as car seat adapter or bassinet if your Jogging Stroller do not fully recline.
Some Jogging Strollers are also designed to look compact and lightweight. These are usually called All-Terrain Strollers. They are not for the runner, but they offer the same benefits a Jogging Stroller has. There are even brands that claim these types of strollers are made better than the basic Jogging Stroller in terms of comfort and maneuverability. Because they cater to parents who need their strollers the ability to easily steer their strollers outdoors.
Price Range of Jogging Strollers can be as low as $60 and as high as $900.
Bike Trailers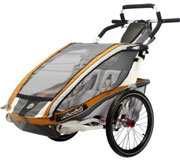 A Bike Trailer is like a Jogging Stroller but is designed for parents who want to take their babies on cycling activities. It sometimes looks like a Jogging Stroller or a chariot. Every model is designed to have two, three, or four wheels. There are actually models that can be converted to walking or jogging purposes. Also, since the baby is completely covered, it is much safer to use rather than use bicycle seats for the baby.
Price Range of Bike Trailers can be as low as $35 and as high as $900.
Multi-child or Tandem Strollers
For parents who have twins, triplets, quadruplets, or babies with close age gaps, the Multi-child or Tandem Strollers are the best choice for them. These strollers have the ability to hold multiple babies side-by-side or one in front of the other. Double, Triple, or Quadruple Strollers are the former and Tandem Strollers are for the latter. These strollers enable the parents to move around or travel with multiple kids with comfort and ease.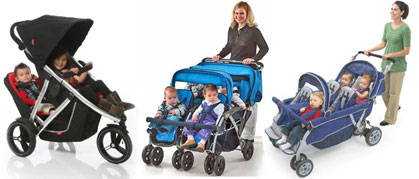 Usually, these strollers look like standard strollers with large capacities. If the stroller has side-by-side design, it can be hard to push it into narrow places because you will be 2x, 3x, or 4x as wide as normal stroller can be. It is much suitable to get the Tandem stroller if you run errands with types of places. The downside of Tandems on the other hand is that the baby behind or on the lower part of the stroller tends to have little leg room. It is best to buy such strollers when you figured out what suits better for babies' and your needs.
Also, there are now strollers that are made to accommodate 6 kids. They look like tandems with 3 rows and 2 columns.
Price Range of Multi-child Strollers or Tandem Strollers can be as low as $70 and as high as $1050.
Manufacturers of Strollers are continuously reinventing the stroller designs. This is because each family has certain needs. Like cars, we think of the capacity, the lifespan, and all features we can benefit from, strollers have so many varieties that we need to pin point which one our baby will be comfortable using and will suit your needs. This article explains fully the differences of each stroller type which hopefully helped you in search of the best stroller for your baby.