The Bumbleride Indie was first introduced back in August 2007. It is actually a replacement to one of Bumbleride's the Rocket model. It is a 3-wheeled all-terrain stroller but very lightweight of its kind making it way easier to take it in and out of the car trunk, occupy lesser space for storage, and great for running daily errands. It boasts about 20% reduction from the Rocket's weight and size. Also, its frame is more compact and closer to the seat which also increases its maneuverability. The Indie has lower center of gravity that makes it more robust and much safer than the Rocket. It also replaced the plastic parts of the Rocket to metal parts which gives more durability and longer lifespan to both the stroller in total and by parts.
Up to this date, the Bumbleride Indie continues to make great impressions on parents as a lightweight all-terrain stroller. More so, Bumbleride continuously tries to improve and hand to consumers what the best stroller has to offer for their babies. Even early this year, a recall was made for all Bumbleride Indie and Indie Twin for the front wheel which affected about 0.1% of their consumers. It was a safety concern regarding the possibility of the front wheel to crack or even break at the central axle hub which can result to tipping or fall hazard. So to comply with safety standards, all consumers from January 2009 to August 2011 has to discontinue using the stroller and apply for a Wheel Retrofit Kit, which was developed to increase the front wheel's strength significantly.
Below, we will take a closer look on the Bumbleride Indie Single Stroller's high and low points, and whether it is for your family or not.
Lightweight
For an all-terrain stroller, the Bumbleride Indie Stroller is surprisingly lightweight. It is only about 20 pounds. Its frame is made of anodized aluminum frame. We all know how light aluminum frames can be. But it is more stable and less brittle making it last longer. In case you don't know what anodizing means, Anodizing is just a process of coloring the aluminum alloy but not exactly putting a layer like other processes like powder coating. It makes the aluminum look duller or having a satin finish and not shinier than a powder coating. The only downside of this anodized finish is that it cannot protect the frame form scratches which some consumers of the Indie found a little disturbing.
Capacity and Fit
While the Bumbleride Indie Stroller is very lightweight, it is heavy duty enough to support a kid of up to 45 pounds. It may be lighter compared to other all-terrain strollers but the Indie can astoundingly fit a tall toddler on its seat. There are kids who struggle with other strollers where their knees touch their chins, but with the Indie, the kids can fit through it and stretch his feet with much comfort. This is great for older toddlers after strolling in a park, museum, and zoo and doze around due to exhaustion.
Reclining Backrest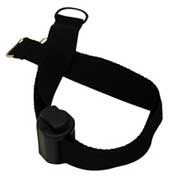 The Bumbleride Indie Stroller has a multi-position backrest from almost upright to totally flat. It will enable infants to use it and grow with it until they outgrew it. This can achieve in seconds. But unlike most strollers, the seat does not have definitive recline settings. It is in fact infinite in terms of how many reclining positions the Indie stroller has. This is achieved by the Backrest Adjuster which slides the straps on the backrest. This is not a one-hand adjuster, some parents find it hard to use this because it requires two hands to make the proper recline position. Its mechanism is very much similar to a bag adjuster. But the best thing about the Backrest Adjuster is that it is so quiet that a snoozing baby will not feel and hear the backrest being tilted. The Adjuster aids the Indie stroller to fold faster as compared to other strollers. The Backseat Adjuster can be replaced for $7.50.
Rigid Backrest Support
One of Bumbleride's main concerns is ergonomics. From the above reclining feature and adjustable footrest which are a must for bone development of a baby to sun protecting canopy, the Bumbleride Indie has backrest padding which is both firm and comfortable. This gives support for the baby's back.
Infant Headrest & Shoulder pads
In addition to the firm padding of the backrest, the Bumbleride Indie Stroller has headrest and shoulder pads. This gives support to the baby's head. The shoulder is for preventing the straps from the five-point harness to scrape the head or cheeks.
The fabric is done with the same material like the ones used in the seat both to match and ensure comfort. However, some find the headrest and shoulder pads to be insufficient because of their size and they do not have much padding. They look like swatches of vibrant colored nylon. Only the headrest has enough padding to support the infant's head from making unnecessary movements.
Adjustable Five-Point Harness
For safety, the Bumbleride Indie Stroller is equipped with an adjustable five-point harness. It has a quick-release button in the center where a pair consisting of shoulder strap and waist strap is housed in one buckle. It looks like connecting a three-point harness. The waist straps are easy to adjust by pulling them from their slits. But the shoulder straps are rather tedious to adjust. They have to be re-threaded through the backrest unlike other stroller brands.
SPF 45 Sun Canopy
One of the great things about the Bumbleride Indie is the huge Canopy. It has a UV lining inside it which reflects heat and adds SPF 45 protection for the baby. It will keep the baby cool and protected. This kind of protection can usually be found in Thousand-Dollar worth of strollers.
The canopy is extended all the way back offering multiple canopy positions. It is also great for maximum coverage. If it's too hot, the rear portion of the canopy can be zipped off and removed to let the air flow. Also, consumers love that they are able to reach their babies through this zipper feature.
The Canopy also has a roll-up viewing window on top for checking on snoozing baby. It is made of UV mesh and has no PVC. But compared to other stroller, it is a little harder to view the baby through it. This is alright for some because it gives sun protection.
Since there is no parent console upon purchasing a Bumbleride Indie, the canopy also has additional small storage on it. They are enclosed also by zippers. They could fit small items such as keys, mobile, etc.
Adjustable Footrest
AS mentioned above about the Bumbleride Indie's ergonomics, the footrest is adjustable. This is to support infants' moving legs or prevent toddlers from having dangling feet. This is of course all about muscle and bone development. Also the footrest can aid with the flat reclining position to support the baby while napping.
Adjusting the footrest is very easy. Simply lift it when the footrest to raise it. Then push the hidden buttons on the side of the footrest to lower it.
Adjustable Handle Height
The Bumbleride Indie is outfitted with an adjustable handlebar. The height of the handle has ranges from 32 to 45 inches. A push of the button inside the handle can achieve this adjustment which is comfortable for mom or dad. This is also beneficial for those taking the baby out for a run where the handle has to be on an outward position. This allows more space for longer strides and to better push the stroller.
Compact Fold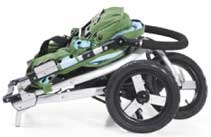 Bumbleride claims that the Indie is compact and designed to fit the smallest space possible when folded. But in reality, it is not that compact. Some parents actually think that it takes up a lot of space in their trucks. But the thing is it is considered already the most compact for an all-terrain or jogging stroller. The Bumbleride stroller is 24.5 x 34.5 x 36 inches. It is folded in thirds making it 24.5 x 15 x 32 inches.
Folding the Indie is said to be tricky. It takes a few steps to make the fold. Collapsing the canopy, setting the brake, release the triggers on the handle which are a bit concealed, fold the handle, grab the carrying strap behind the seat and pull upwards, then finally lock it. It requires a bit of a learning curve to get used to it. But this is not an umbrella stroller after all.
While folded, the carrying straps are used for easy transport as holding a hand bag. Also the folding locks on each side of the stroller ensure that the stroller is closed and secure.
Unfolding the Indie is by far so easy as opposed to folding it. Simply unlock, lift the handle, jiggle bit, and the stroller pops back in to place.
Car Seat Compatibility
The Bumbleride Indie Stroller comes with a strap that will hold almost any car seat in place. There is also an optional universal car seat adapter bar available and adapter for Maxi Cosi available. The following infant car seats are compatible with the Bumbleride Indie:
Graco SnugRide, SnugRide 32 and SnugRide 35
Peg Perego Primo Viaggio SIP
Chicco KeyFit 30
Combi Shuttle
Baby Trend Flex Loc
Britax Chaperone
Spacious Cargo Basket
The Bumbleride Indie has a ling-like storage basket underneath the seat. It is spacious enough for diaper bag, mother's purse, and a little more. But looks can be deceiving when it comes to the Indie's basket. It actually is a little restrictive. This is only the feature that we find unappealing towards the Indie. If in case of wear and tear, the basket can be purchased for $11.99.
12″ Air-Inflated Tires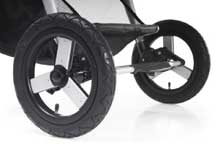 Although Bumbleride explicitly said that the Indie Stroller is not a Jogging stroller, it is classified as an All-terrain stroller that can be used for light jogs or runs. It has 3 air-filled tires that are 12 inches in diameters each. They are heavily threaded that will glide through almost any type of terrains. Form the smooth indoor tiles, slick pathways, grass and sand in the park, curbs on the street or even trekking off road.
The Air-filled rubber tires with its suspension give the Bumbleride Indie a comfortable ride and cushions the stroller and all its weight through whatever type of terrain you push it.
360° Swivel Front Wheel
Adding to the easy maneuverability of the Bumbleride Indie is the 360-degree swivel of the front wheel. It is freely mounted so it has this capability. It also has an inline locking mechanism for directing the strolling on a straight path. This is very much recommended for those lightly jogging or moving much faster than brisk walking.
Rear One-Step Brake
The Bumbleride Indie stroller is also easy to put in parking mode. Between the rear wheels, the pedal break is placed parallel to the rear axle. Simply push the pedal to put the rear wheels in halt, or push it again to make them move again. The only downside of this is that foot or legs are easily scraped on it especially if the handle height is set to a high position. The higher the handlebar is the closer a parent is to the stroller and the more he or she is likely to hit the stroller.
Cup Holder
The Bumbleride Indie Stroller comes with a cup holder which is free and included upon purchasing the stroller. It is easily put in place on either side of the stroller's handle. A complaint we read about it is that the cup holder tends to wiggle so putting coffee on it looks a bit unsafe. If you wish to get another cup holder or replace the old one, it is on retail for $7.50 a piece.
 Jogging Strap
Another unusual but not extraordinary included accessory for the Bumbleride Indie is the jogging strap. This is of course to secure the stroller while doing light jogging for a few miles each week.
Fabric Options

The Bumbleride Indie comes in 8 different fabric options and colors. They are all composed of a breathable nylon blend for long lasting, color-safe wear. Four of which are the standard ones such as the Aqua, Seagrass, Ruby and Lava (from left to right). Aqua is the latest which was released last spring of 2012.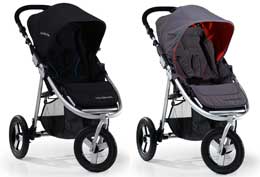 The next two colors are from the Movement Edition. This edition is designed to move and adapt with the active lifestyle of the kids. It features water-resistant sports fabric that protects kids from damp weather; and a new UV lining inside the canopy adds SPF protection and reflect heat for the hot weather. They come in eye-catching colors of Jet which has an Electric Blue highlights, and Fog which has Persimmon highlights.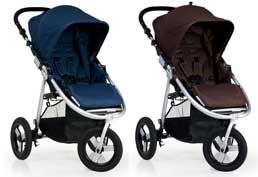 The last two fabric options are the Natural Edition. This edition is much more environment friendly and boasts different types of natural fibers. The exterior is made from 50% recyclable materials. The seat lining is woven from soft fiber mix with bamboo that has the ability to absorb moisture, control temperature, and prevent bacterial growth. They come in soothing colors of Ocean which is a two-tone Navy and Walnut which is a rich chocolate brown.
Accessories and Parts
Snack Pack (tray), $34.99 – $44.99
Parent Pack, $24.99
Bumper Bar
Universal Car Seat Adapter, $19.99
Carrycot, $149.99 – $159.99
Foot muff & Liner, $64.99
Non-PVC Rain Shield, $34.99
Travel Case, $89.99
Maxi Cosi Car Seat Adapter (latch on), $39.99
Front Wheel, $25
Fabric Set, $89 -$99
Safety Certificates
All Bumbleride products including the Indie Stroller have been tested in accordance with the following safety standards:
JPMA – Juvenile Products Manufacturers Association
ASTM F833 – Standard Consumer Safety Performance Specification for Carriages and Strollers
EN 1888 – European Pushchairs and Prams Standard
SOR 85-379 – Carriages and Strollers Regulations (Canada)
CPSIA 2008 – Consumer Product Safety Improvement Act of 2008
Care and Maintenance
Primary Maintenance for the stroller is the tires. Like car tires, check them every now and then if they are getting flat. Use the pump that is included in the purchase of the Bumbleride Indie. If not, it is in retail for $9.99.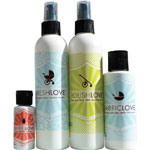 Second Maintenance is fabric cleaning. It is so great to know that all of Bumbleride's fabrics are removable and machine washable. Put the machine in gentle cycle with a very mild detergent. For tough stains, Bumbleride recommends treating it with Oxiclean or other bleach alternative before washing. Unfortunately, the Canopy cannot be removed like the seat so spot cleaning is required. Then after washing, the fabric should be air or line dried and not undergo drier.
Another alternative for machine washing the fabric of the stroller, Bumbleride recommends BuggyLove Organic Stroller Cleaning Kit which they have tested on their products. It saves time and electricity as well.
Customer Service
Bumbleride customer service is astoundingly superb. For all the complaints and feedbacks by Bumbleride Indie fans, whether it is factory defects, broken parts due to airplane pressure, or even a recall, they all commend Bumbleride's customer service.
They can be reached through: 1-800-530-3930, info@bumbleride.com, support@bumbleride.com, or through their site www.bumbleride.com.
Pros and Cons
Pros
Beautiful and durable fabric
Great for daily jogging
Lightweight for an all-terrain
Great for infants, even without the carrycot
Car seats snap in place without using kits or adaptors
Zipped huge canopy
Zippered pockets of canopy
Adjustable handlebar
Air-filled tires
Glides smoothly
Stroller is stable for active toddlers
Excellent Customer Service of Bumbleride
Cons
Not really compact when folded, it is still bulky
The gap between the rear wheels are not great for striding, shins and feet are getting scraped every now and then
Storage basket is not that big but sufficient enough
Seat fabric is hard to remove and put back for cleaning
Quite expensive
Consumer Ratings
Consumers rated the Bumbleride Indie Single Stroller as 4.8 where 89% thinks it is a 5.
Bumbleride Indie's Price
The Bumbleride Indie comes with a little hefty price of $489.99 for those that have the standard colored fabrics, while the Movement and Natural editions are in retail for $519.99 each. There is sure difference between the types of fabrics used in each type.
Overall Impression on the Indie
If you have a bit of an active lifestyle, do a little urban jogging every now and then, want to lose the pregnancy weight, run errands every day, but also wants to have a stroller that the baby will grow with comfortably and safely then the Bumbleride Indie Stroller is for you. Also, looking at the quality, safety, and convenience this stroller offers who would not like to get one?