Last April this year, Britax announced their latest model of strollers, The B-Agile Double Stroller. Following the success of the B-Agile stroller, the company decided to release the same kind of stroller and double its capacity. Yes, the B-Agile Double Stroller is their first take on side-by-side strollers. (Feel free to review the different types of strollers on our previous posts.) The Britax B-Agile Double Stroller debuted in the market last May.
Quick Fold Design
Like the B-Agile Stroller, the double stroller has the ability to be folded quickly and secured by the automatic chassis lock. Simply push the button found at the side, pick up the middle of the seat, and the stroller collapses effortlessly. It then snaps securely with the automatic lock. This is one of the features that the B-Agile became a top seller.
Lightweight Aluminum Frame
The total product weight of the B-Agile Double Stroller is about 28 pounds. This excludes adapters and car seats. For a double stroller, this is actually lightweight because the actual frames are made of Aluminum. Also, Aluminum enables the stroller be pushed without resistance. It is also much sturdier than normal metal tube frames with plastic joints that the B-Agile Double Stroller can accommodate up to 50 pounds of weight per seat.
Curved Frame at the Back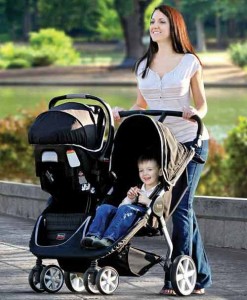 The frame at the back which also supports the storage is curved upward. The great thing about this design is that parents do not hit the stroller during each stride. Most strollers have straight bars which impart frustrations on the parents' part.
Less than 30.5 inches Wide
The B-Agile Double Stroller measures a maximum unfolded dimensions 30.5 x 41.4 x 40 inches and 30.5 x 13 x 30.5 inches when folded with seating units. The less than 30.5 inches in total width makes this stroller fit through standard doorways and narrow spaces. This is what parents worry about when purchasing a side-by-side stroller. Since the capacity is double, the stroller is expected to have issues on fitting between tight spaces, but Britax made sure that it is no issue at all.
Adjustable Padded Handle
Another great feature of the B-Agile Double Stroller is that its handle's ability to adjust its height. A lot of tall parents are complaining about strollers that are not ergonomically designed for them. And it makes it harder to maneuver the stroller. Also, Britax padded the handle with form materials to make the grip more comfortable.
Accessible Large Storage
Another feature that the B-Agile takes pride on is that not only the under-seat storage spacious and large, but it is also accessible through the front, sides, and back. You can fit your huge diaper bags or snack coolers and still get access to them even if the seats are in reclining position through the zippers on the front leg rest.
Additional Pocket Storage
Also, behind the seats of the B-Agile Double have two roomy pockets that offer more storage options for you. Each is big enough to even fit a baby carrier.
Separate Sizeable Canopies with Vents
Even with the single B-Agile Stroller, large canopy is offered by Britax which allows parents to check on their kids. The Double Stroller also has two separate canopies to shield children from rain, cold, or heat. They both have peek-a-boo windows made from mesh materials and are closed with Velcro.
Infinite Seat Recline Positions
Most standard strollers have 3 recline positions, but the Britax B-Agile Double Stroller like the single version has infinite recline positions. This enables your stroller to accommodate all baby ages from infant up to toddlers of 50 pounds. Also, different recline positions will give enough comfort for your kids whether they want strolling seated or when they fall asleep. This will also enable you to save on purchasing extra car seat if you are on the budget. Simply pull the strap recline behind each seat and tilt back the seat to your desired position.
Five-Point Harness and Head Pad
The B-Agile models do not come with front bars or front trays upon purchase. So to ensure safety, the B-Agile is equipped with five-point harness with head pad. This straps the baby in place but is also snug and comfortable both for the front and back.
Britax boasts the harness to have no re-thread and adjustable capabilities. These capabilities will let parents to adjust the height of the head pad and harness without having to detach and reattach the straps from the hoops and then thread them in new slot position. Behind the seat, you will find knobs that slide up and down. This will adjust the head pad and harness to the position compatible for the kids' height.
Also, the harness and head pad have reflective bindings. This will allow you to see them on darker areas or at night.
The round buckle that holds all straps of the harness is said to be tough to open. This needs getting used to in our opinion. Safety and comfort comes first for the kids.
The height of the harness slots measure 10.5 / 12.5 / 15 inches, while the buckle strap is 4.5 inches deep.
Integrated Adapter System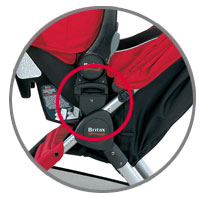 Britax integrated their CLICK & GO adapter system on all their strollers, frames, and car seats.  This adapter system can be installed on the strollers to fasten Britax's car seats making the stroller a travel system. They can even be retained even the car seat is not in place to have room for bigger kids. Also, the receiver can be retained even if the stroller is folded. The B-Agile Double Stroller works well with BRITAX CHAPERONE and B-SAFE infant car seats.
Lockable Front Wheels
The B-Agile Strollers are designed triangularly that mimics a jogging stroller. This makes the stroller easy to push that even one hand can do. The front wheels have great swiveling action. Also, Britax added safety on the front wheels. They are lockable. The wheels are therefore prevented to roll-off or swivel from turning if you opt for it.
Wheel Suspension
For better maneuverability, the B-Agile Double Stroller has good wheel of suspension. This ensures smooth ride for the kids. Suspensions are the big coils on top of the wheels that provide appropriate springing effect for the stroller when encountering rough terrain.
Linked Parking Brake
For safety, the Britax B-Agile Double Stroller has linked parking locking brakes on the rear wheels. This will secure the stroller from moving when parked.
Fabric Options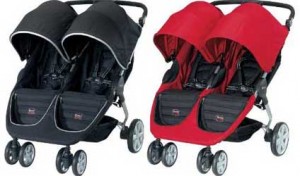 As of now, the fabric options for the Britax B-Agile Double Stroller are black and red. Hopefully, Britax will make available additional colors such as Kiwi and Sandstone in the single version.
B-Agile Accessories
Britax B-Agile Double Stroller has included CLICK&GO car seat receivers upon purchase. But the other accessories are sold separately.
B-Safe Infant Car Seat, $179.99
Chaperone Infant Car Seat, $229.99
Universal Adult Cup Holder which comes in Black, $14.99
Stroller Foot Muff which comes in Black, Green, Red, Silver, $39.99
Stroller Organizer, $29.99
B-AGILE Double Rain Cover, Clear, $59.99
B-AGILE Double Child Tray which comes in Black, $24.99
Pros and Cons
Pros
adjustable handlebar for tall parents
spacious and access on basket from the back, side, and front when seat in reclined
pockets behind the seats that are extremely roomy (I was able to fit a baby carrier inside one of the pockets
easy to push
smooth movement and glides
large canopies
adjust each seat individually
fabric quality seems nice
good suspension on front wheels
easy to assemble, pop on the wheels and attach the canopy then you are ready to go
bent bar at the back, foot doesn't hit it during striding
Cons
Velcro closure for the canopies
straps in the back that are used to recline the seats are a bit tough to pull up at first
car seat adapter is only for Britax models
only one car seat can be placed
no cup holders or trays, need to purchase separately
plastic wheels instead of rubber
handlebar is foam which can deteriorate easily
only 2 choices of colors
Consumer Ratings
Britax B-Agile Double Stroller has been rated as 4.8 where 75% rated it with a 5.
Britax B-Agile Double Stroller's Price
The regular price for B-Agile Double Stroller is $449.99. When this post is made, Amazon is offering it for only $369.99 plus free shipping. This will give you 18% savings.
Overall Impression on the B-Agile Double Stroller
If you are a heavy traveler, tall, have twins or baby number 2 is on the way, Britax's B-Agile Double Stroller is for you. With features mentioned above, such as storage, lightweight and compact frame designs, and adjustable handle, the B-Agile is a great addition for your babies' chattel.