The Little People Musical Preschool from Fisher Price is included in 2014 Walmart's Top 20 Toys Chosen by Kids.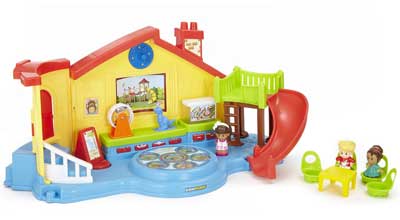 This colorful playset basically gives the feel of being inside a preschool, complete with a table with 4 chairs, indoor play area/slide, musical rug, and animals/objects. It comes with Eddie and Mia as classmates from Little People and a teacher figure.
This toy for toddlers has more than 35 sounds, phrases, and songs. Turning on the playset alone will greet kids with "Welcome to little people place." And between intervals, it will make such instructions like "It's time for Miss Hug's magical rug" and then "What can you find?" And gives kids enough time to push other buttons on the circular rug or objects at the back which are all perfect for toddlers' tiny hands.
The magical rug is the main highlight as the center button stands as the teacher's voice giving out instructions and directions. It tells the kids what sounds they can hear once the other 5 buttons on the rug once they pressed. Those instruments demonstrate what they sound. Also, they create music by itself or altogether like a band once they are pressed simultaneously.
The objects at the back are also very interesting. Sounds are heard once they are pressed down like the easel with a bird drawn tweets; the hamsters squeak; the blue dinosaur roars; and the fishes on the aquarium make the bubble sounds. The sounds are not that of the real thing like the instruments, but they are sounds that kids can easily mimic.
All sounds are loud enough to hear but the volume can be adjusted.
Below is a quick demo on the Little People Musical Preschool featuring other figures from other playsets.
The Little People Musical Preschool is priced at $39.99 at Amazon, but is on sale for $29.97 during the time of posting.
Some things you have to take note when purchasing this product:
3 Double A batteries are included
Recommended for children 1 to 5 years old
Great addition to Little People Collection
Easy to put together plastic pieces that snugly fit together in less than 3 minutes by adults without tools.
Pieces are not easily pulled apart by toddlers.
Edges on pieces are round so kids will not get scrapes or cuts.
Power and volume switches are at the bottom of the toy, far from kids hands
Images courtesy of Amazon and Video courtesy of YouTube/ TheEngineeringFamily