The Razor Crazy Cart Spinning Go Kart is included in 2014 Walmart's Top 20 Toys Chosen by Kid and 2014 Holiday Toy List by Target for 7 to 9 years old.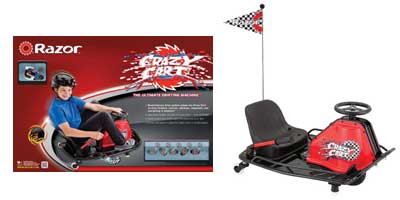 The Crazy Cart is an ultimate drifting machine. It is designed to not only go straight like any other kids' cars and go carts, but also able to make great turns especially on corners. It can simply spin 360 degree in place or spin around objects.
It also features pneumatic front and anti-tip front caster wheels will make sure that kids will not easily fall while drifting.
The cart runs on 24V or two 12V sealed lead acid rechargeable battery system which can support variable speed foot pedal acceleration up to 12 mph and can run for 40minutes of continuous use. Spare ones can also be bought separately.
Watch the fun video of kids and kids-at-heart enjoying the Crazy Cart in a warehouse!
It comes in red and black color.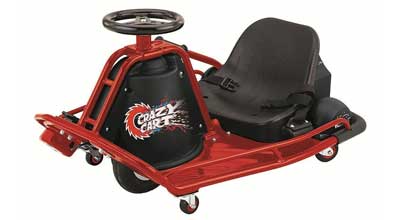 The whole package also includes charger, lap and shoulder strap, and flag.
Below is the unboxing and assembly of the Razor Crazy Cart Spinning Go Kart.
The Razor Crazy Cart Spinning Go Kart is priced at $399.99 at Amazon, but is on sale for $319.99 during the time of posting which gives 20% savings.
Some things you have to take note when purchasing this product:
For safety purposes wear helmet and other safety gears
Can make your kid dizzy, specially with those motion sickness so make them drift less
Recommended for ages 9 and up
Adults can try it too but it can only hold up to 140 lbs
Very low in terms of height vs. ground
Can be used indoors or outdoors
When using outdoors, users will have to follow rules and regulations provided by the local government and state
Razor's Crazy Cart also comes in XL or the adult version for $900.
Images courtesy of Amazon and Videos courtesy of YouTube/Jimmy F and YouTube/Recreation Ltd