Baby Bjorn introduces its new diaper bag. It is practical, beautiful, and convertible – the Diaper Bag SoFo.
It holds not only diapers but organizes everything a parent of a child needs. It has 13 pockets and a main compartment for storing things like bottles, food jars, mobile phone, keys, etc. The top zips up to ensure that everything stays in place. There are also outer sections such as bottle compartments and pockets with magnetic closures.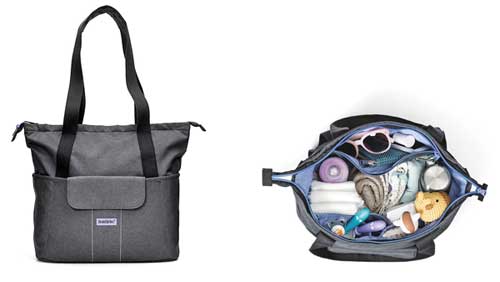 It also includes a machine-washable changing pad which is tested to have no allergens or harmful substances. It is very safe for infants.
The Diaper Bag SoFo is also very stylish and attractive that even dads will not be embarrassed to carry around. It comes in dark gray outer fabric that women and men will like. The inner lining is purple in color, making things easier to locate.
Not only is the diaper bag functional and stylish but, it also converts into different types of bags which are perfect for any type of occasion like running errands. It can be carried as a tote bag, a messenger's bag, or a backpack.

The best thing about Baby Bjorn's new diaper bag is that it can be used beyond diapers when kids grow older. Parents can use it for work or on trips and such.
For more information on when the Diaper Bag SoFo will be available, go to www.babybjorn.com.
Images courtesy of Baby Bjorn