Yesterday, Robert Reinders, President of Performance Packaging of Nevada has announced their voluntary recall of about 6,000 units which were made from March 17 to April 9, 2014 and are sold online exclusively through Amazon, Little Green Pouch, and Jack Be Natural from May to September 2014. Also, the toppers were sold through Squiz for European customers. Only those with SipP logo on the bottom are affected.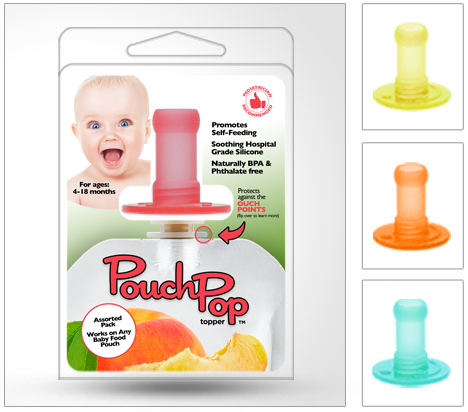 PouchPop Toppers are silicone attachments that screw onto baby food pouch, making the food pouch safer to use for infants to feed. They come in a pack of 4 colors: red, yellow, orange, and green and are priced at about $10.
The firm has received 4 reports of breaks from the base. These breaks may lead to choking if parts were detached. No injuries or deaths have been reported but they still would like to replace or refund the toppers.
Consumers are urged to stop using said affected products and contact Performance Packaging of Nevada via their toll-free number at 844-560-7227 from 8am to 4:30 pm PT from Monday through Friday or via email at pouchpop@pplv.co to receive instructions on how to get replacement or get refund.
Images courtesy of PouchPop.com