The Disney Palace Pets Magic Dance Pumpkin from Blip Toys is included in the 2014 Walmart's Top 20 Toys Chosen by Kids and 2014 Holiday Toy List by Amazon.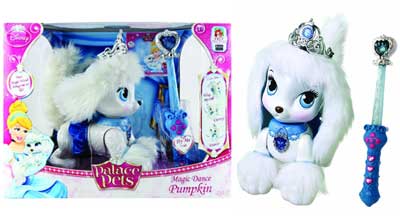 It is a 9″ x 7.5″ x 12″ RC pet that follows every command via its wand and bows, wags its tail, and even display 2 of its pre-programmed dance routine. The buttons of Pumpkin's wand are directional and have pictures on which make it for kids to manuever the magical pet by themselves.
It can speak when its tiara is placed on her head and says dozens of phrases and sounds like "Let's try and make it home before midnight".
Watch Pumpkin cruise around below.
The Disney Palace Pets Magic Dance Pumpkin is priced at $59.99 at Amazon, but is on sale for $49.25 during the time of posting.
Some things you have to take note when purchasing this product:
Batteries for the wand, 2 AAA and batteries for the puppy, 4 AA are NOT yet included in the purchase
Remove the two clear rubber bands from her body when removing from the packaging so it can run smoothly
Hard surface or tiled floor suits this toy better
Takes up space when it dances
Some say that the tail falls constantly as it is detachable
Recommended for 4 years and up
Boys are NOT discouraged to play as Pumpkin can be fun to be played with like any other RC toys
Pumpkin is Cinderella's dog which was an anniversary gift from her Prince. And with this RC toy, it combines tech and Disney's signature magic.
Images courtesy of Amazon and Video courtesy of YouTube/LuckyPennyShop.com