The Airstorm Fire Tek Bow by Zing is included in 2014 Walmart's Top 20 Toys Chosen by Kids who are fond of practice shooting or archery.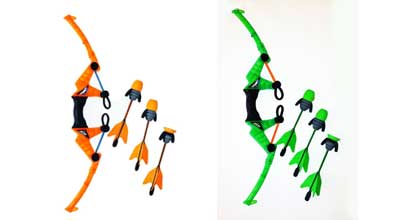 Young kids will definitely be able to practice on their shooting skills with the Airstorm Fire Tek Bow. Its bow can hold spare arrows while still cradling the 3rd arrow being used.
The arrows are both safe and fun to use. There is one Zartz arrow which has a suction cup for target shooting. And there are two Zonic arrows with foam heads that have whistling sounds while whizzing through the air. All arrows can shoot up to 100 feet or more which are great for playing outdoors.
Below is a quick demo on the Airstorm Fire Tek Bow.
The Airstorm Fire Tek Bow is priced at $19 during the time of posting.
Some things you have to take note when purchasing this product:
Recommended for kids ages 5 and up
The actual box of the set is also the Target, take it out with care
The Air Hunterz Red Arrow Refills are sold separately
Do guide them in shooting and choosing proper targets for safety
Images courtesy of Amazon and Video courtesy of YouTube/ Toy, Gadget and Product Reviews by Dad Does