Another great gift idea for this Holiday season to introduce the art of sewing for a young crafter is the Sew Cool Sewing Machine from Spin Master. It is included in 2014 Walmart's Top 20 Toys Chosen by Kids, and 2014 Holiday Toy List by Amazon.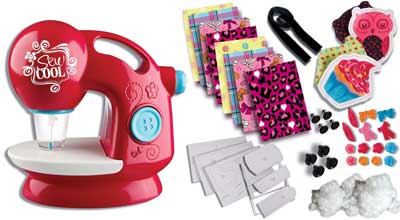 This enjoyable sewing kit for kids and adults alike is very simple to use without using thread and foot pedal. With a push of a button, anyone can churn simple sewing projects in minutes.
The secret to this machine is in the fabric. This sewing machine is actually known as a felting machine where felt-type cloths are sewn together using their own threads and fibers manipulated by the needles of the machine. And because of this, redoing a project is easy and less frustrating.
The Sew Cool Sewing Machine includes a machine, 8 fabric sheets, 3 pre-cut projects, a strap, 22 embellishments, a bag of stuffing, an instruction guide for 6 extra projects.
You can get more fun craft and projects can be downloaded through their website in sewcoolworld.com.
Below is an unboxing and quick demo on how to use the Sew Cool Sewing Machine.

The Sew Cool Sewing Machine is priced at $44.95 during the time of this post.
Some things you have to take note when purchasing this product:
Use felt or fleece cloths if you run-out of Sew Cool fabric
Sew Cool fabric Refill Packs are sold separately
This toy is made for girls but with parent's guidance, projects can be done even for boys.
The needles are guarded so kids will not get hurt
Images courtesy of Amazon and Video courtesy of YouTube/LuckyPennyShop.com