An alternative to a learning app tablet is a kids' smartwatch. Besides the fact that it can tell time, it is also a great educational toy that is light and wearable, a must have when out and about. That is why the Kidizoom Smartwatch by VTech is included in 2014 Walmart's Top 20 Toys Chosen by Kids, and 2014 Holiday Toy List by Amazon.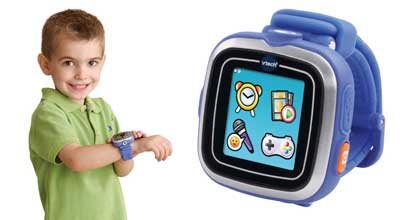 The durable and colorful watch comes in blue, green, pink and white. It has more than 50 digital and analog clock face designs. It makes teaching how to tell time more fun. It also has an alarm with a selection of tones and animations. The smartwatch can also function as a countdown timer, stopwatch, and a lot more of settings to customize it.
And like other watches, it is also splash and sweat proof but not to the extent that it can be submerged in water.
You can never leave out the 4 preloaded exciting learning games in the smartwatch which are clear and visible because of the 1.41" bright color touch screen. They are Super Detective, Rotating Puzzle, Finger Dance, and Time Master. Also, more VTech games can be downloaded through the Learning Lodge.
Also, this smartwatch can make James Bond wannabees to take 640×480 jpeg pictures and 60 second (per file) videos. Kids will have fun adding frames, effects, or filter on them. Plus, kids will have a wacky time recording their voices with 5 different voice-changing effects. All can be stored in 128MB memory of the gadget, and can easily be transferred and shared via micro USB to computers.
A great feature that Parents will definitely love is Parental Control to limit the amount of game time per day. It can be set to 30, 60, 90 minutes, or no time limit.
Below is a quick demo on how to use the Kidizoom Smartwatch.
The Kidizoom Smartwatch is priced at $59.99, but is on sale for $49.96 during the time of posting.
Some things you have to take note when purchasing this product:
Playing with it nonstop, the Li-Ion Polymer battery will last for about an hour. Used as a watch, the battery will last for days or weeks. It charges pretty fast via USB cable.
The on/off switch is a little small, located at the back of the watch
Recommended for kids 4 and up, bigger kids may be bored with the games
Needs to fully charge for about 3 hours before using for the first time
Images courtesy of Amazon and Video courtesy of YouTube/See Mom Click