Bring your Barbie Dolls out their house and camp out with the Barbie Sisters Glam Camper from Mattel. This huge RV is included in 2014 Walmart's Top 20 Toys Chosen by Kids, and 2014 Holiday Toy List by Amazon.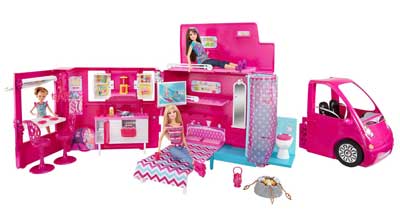 Girls will definitely love putting together and decorating this spacious camper and give their Barbie Dolls a great outdoor vacation. What is the interesting is that the camper may look like a simple pink RV, but it opens up into 5 sections that make up a full house. Actually, if your kid just started with Barbie Dolls, this product definitely can be a Dream House alternative, and storage will be a breeze for small spaces.
The first half of the Barbie Camper or the cab can be pulled out so that a small pool can be laid. The second half of the camper on the other hand can be opened out to display the remaining four sections.
The bathroom comes with a shower area with curtain, mirror, and a toilet which is quite a realistic touch from the makers to include.
The lounge area even has a TV that can be flipped out. The Lounge area turns into a bedroom in seconds with a fold-down double bed and two bunk beds complete with a blanket. They missed out on a ladder though otherwise the bedroom/living room is great.
Next to it is a full kitchen complete with a mini fridge, oven, and juicer. The kitchen also has so many minute accessories that are snapped onto the set such as frying pan, plates, cups, muffins, grocery items, etc. When I was a kid, I get frustrated as these small accessories easily fall off and go missing after I store them. Mattel sure did a lot of improvements since then.
Also, the Grill at the back of the camper which is also a part of the door can be flipped and turned into table. Simply add the two chairs included in the set and you have a space for dining. There is even a chandelier to add to the glam feel for camping out.
To complete the outdoor experience of Barbie and her sisters, a small fire pit, lantern, and marshmallows on sticks that can be held by the dolls are also included.
Below is a quick tour on the Barbie Sisters Glam Camper.
The Barbie Sisters Glam Camper is priced at $89.99 but is on sale for $68 during the time of posting.
Some things you have to take note when purchasing this product:
Recommended for kids ages 3 and up
Many sticker details to put on, but kids can do it even without much supervision
4 Barbie Dolls can be accommodated but they are not included in this set
Images courtesy of Amazon and Video courtesy of YouTube/growingyourbaby