The Air Hogs RC Zero Gravity Laser Racer by Spin Master is included in 2014 Walmart's Top 20 Toys Chosen by Kids, and 2014 Holiday Toy List by Amazon.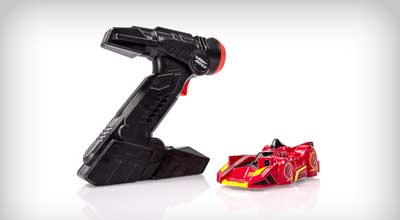 We played with cars with or without remote controls, we played with different kind of roller-coaster-like tracks to race them, we played with cars with wall tracks, we played with choppers and planes that run on the ground or really fly, but we have never seen a car that can run on walls and ceilings. No wonder this toy is chosen by kids as a great toy for this Holiday.
Firstly, the set looks great. It comes in eye-catching red or blue colors. Its controller looks like another version of a joystick which makes it easy to use and hold. The car also has lights in it when it is moving so that when it is dark, it has that Tron feel to it.
A practical and convenient feature is that the chord for charging the car has its own compartment so that it is tucked away clean and won't get in the way.
Also, instead of controlling the directions from the remote like other RCs, it has a built-in Infrared sensor that will enable it to follow the laser beam in any direction you point at, like a cat chasing a light.
And the most fascinating feature is that it can run on walls and ceilings (as long as the surface is smooth)! Its lightweight body makes it easier to "defy the laws of gravity".
Below is a quick demo on the Air Hogs RC Zero Gravity Laser Racer.
The Air Hogs RC Zero Gravity Laser Racer is priced at $46.99 during the time of posting.
Some things you have to take note when purchasing this product:
Recommended for kids ages 8 and up, younger kids can also enjoy and easily use it
Needs 6 AA batteries
Runs using IR, so line of sight is a must
Has to run on flat surfaces or else, it will fall off the wall or ceiling
It is made of foam material so that it is light enough to run on walls and ceiling
Might be much suited for walls than the ground as compared to other Air Hog vehicles
Images courtesy of airhogs.com and Video courtesy of YouTube/TTPM