While the Fred & Friends' Chill Baby Artiste, Volume and Panic infant pacifiers are cute and funny, but pose choking hazards so CPSC, in conjunction with Healthy Canada, and Fred & Friends, although already closed, had to recall 183,000 units distributed in US and 17,000 units from Canada.
The Chill Baby Pacifier beard on the Artiste and knob on the Volume are prone to detachment and can cause choking for infants. Also, the ventilation holes for the Chill Baby Volume and Panic pacifiers are too small based on federal standards.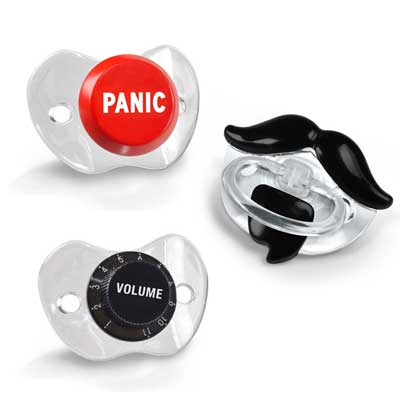 The models included for this recall are:
Fred & Friends Chill Baby Artiste pacifier with black beard/goatee and moustache – UPC 2898702128
Fred & Friends Chill Baby Volume pacifier with rotating black knob – UPC 728987020599
Fred & Friends Chill Baby Panic pacifier with red knob – UPC 728987020605
So far, Fred & Friends has received only one report of the knob on the Volume pacifier detaching and no injuries have been reported.
These pacifiers were sold mostly on department stores, gift stores, drug stores, toy and baby product stores, grocery and home decorating stores, and even hospital museum shops nationwide and online from April 2013 to December 2013 for about $13.
Fred & Friends will give a full $12 refund and provides a postage paid envelope for consumers to return the recalled pacifiers. Consumers can contact them at their toll-free number 855-346-6372 from 8 a.m. to 5 p.m. ET Monday through Friday, through email at pacifiersconsumer@fredandfriends.com, or at their blog www.fredandfriends.com.