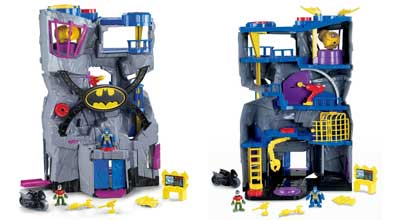 The Fisher Price Imaginext DC Super Friends Batcave has been picked by 1000 kids as Walmart's Holidays Top Toys for 2013 for ages 3 to 5 years old, and Toys R Us' 2013 #TRUHotToyList for 2 to 4 years.
The Fisher Price Imaginext DC Super Friends Batcave is like a sturdy boys' version of a dollhouse, but it can also be enjoyed by girls and even adults.  It has four floors full of trinkets for a whole lot of imaginative play.  It has secret passageways, retractable walls, working bat signal, telescope, harpoon, bat cycle, and even a jail cell for captured villains. What is neat is that it has 5 activation discs where Batman or Robin steps into and activates some things on the Batcave.
Check out this short video review below to see it in action.
Some things to take note when getting this toy:
Parents need to use a phillips screwdriver to open the battery case located at the third floor behind the launcher door and put in the 2 AAA batteries
Parents must guide kids to fit the wall to the hinge near the balcony. It may be hard for kids to do this alone.
You might need to buy accessories so Batman can have actual villains like the Joker for more imaginative plays, or else you will be putting small toys to throw in the jail.
No actual guide to take advantage of all the secret passageways and accessories.
Other accessories like the Batwing can be purchased separately.
The Fisher Price Imaginext DC Super Friends Batcave is retailed for $57.99, but it is for sale at $49.35 during the time of writing.
Images courtesy of Amazon and Videos courtesy of YouTube/TimeToPlayMag.com