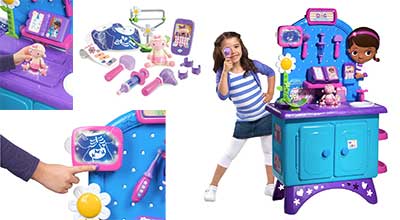 The Doc McStuffins Get Better Check Up Center has been picked by 1000 kids as Walmart's Holidays Top Toys for 2013 for ages 3 to 5 years, Toys R Us' #TRUHotToyList for 2 to 4 years, and included in 2013 Holiday Toy List by Amazon.
Just Play outdone themselves and created a well designed huge interactive playset, the Doc McStuffins Get Better Check Up Center. It is a complete set that mimics that can be seen in the Doc McStuffins Series. It has a talking Big Book of BooBoo's, x-rays that lights up and has sounds, Hallie toy that talks through the phone, height checker that clicks, movable scale, faucet that makes noises as if real water comes out, bandage sticker dispenser, an eye chart, and more medical tools.
Check out the video review below.
Some things to take note in getting this playset:
Assembly time takes about 30 minutes.
Made of plastic.
Needs about 12" by 24" of space.
The Doc McStuffins Get Better Check Up Center is priced at a whopping $211.99 over at Amazon. It is now only $134.95 during the time of writing. (I hope it continuously drops it price so do check back here often!)
Doc McStuffins is a child character from a TV series of the same name in from Disney Junior. She treats her friends aka her toys when they are ill. Well practically she finds a way to fix broken toys. Like Sofia the First talking to her animal friends with her amulet, Doc McStuffins is able to talk to her friends as soon as she touches her toy stethoscope. The toys then come to life when they are alone with her, like in Toy Story, except Toy Story characters never interact with humans.
Doc McStuffins' mother is a real doctor so she gets the idea from her and asks for consultations from time to time. While the main character is a girl that is now competing with Dora the Explorer of Nickelodeon, it surprisingly appeals to boys as well. My son watches it from time to time. This series actually is fun especially for preschoolers and thinking how cool it will be to be a doctor.
Images courtesy of Amazon and Videos courtesy of YouTube/TheEngineeringFamily