Digital two-way communication, clear audio, bright 2.8" LCD screen, infrared night vision, 590-feet range, wireless, and expandable are some of the features that the Motorola Wireless Baby Video Monitor has. These capabilities will allow parents and caregivers the security and assurance they need when watching over a child in another room while doing other house chores.
Check out the all the nifty features below.

Here are some links for the MBP 33 Baby Video Monitor Manuals:
Table of Contents
Safe Two-Way Communication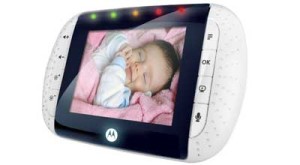 The Motorola MBP33 Video Baby Monitor has a 2.4GHz FHSS technology which present a more consistent wireless connection as compared to those that have 900MHz cordless technology. This means that it has better range of up to 590 feet and still delivers high quality audio and video.
The transmission from camera to parent unit is data encrypted making the baby video monitor secure  and that there will be no way that other cordless technology can intercept the exchange between the two. Definitely, it is protected and has no interference.
The MBP 33 can also be used to communicate like an intercom. Any parent can talk or even sing lullaby to the baby through the parent unit. This in contrast with other baby video monitors where the parent unit only receives audio and/or video while the camera unit simply transmits. This way, the parent or caregiver can provide the security that babies need when hearing their voices.


"Out-of-Range" Warning
The superior wireless range of the MBP33 lets you keep connected to your baby up to 200 meters away. So even if you have a larger home, you don't have to give up safety or the ability to stay connected to your little one. An alarm sounds when you're getting out of range of the transmitting unit, so you'll never have to wonder if you're close enough to hear what's going on.


Color LCD Screen with Night Vision
The Motorola MBP33 Video Baby Monitor has superb 2.8-inch color LCD screen that parents will enjoy viewing real time videos. Also it has up to 25 FPS video playback which means that the video is not jerky.
The video demonstration below will show you how crisp and clear a the MBP33 Baby Video Monitor is.

Also, it has a infrared night vision which means parents can check upon their baby at night without disturbing the baby in his room by simply viewing at the LCD.


5 Built-In Lullabies
Another "hands-free" feature that the MBP33 has is the integrated polyphonic lullabies programmed into it so parents can lull babies to sleep. The two-way communication is already a great feature having the ability to talk or sing to the baby through the monitors, but using polyphonic lullabies are fantastic as well.


Sound-Activated Lights
The 5 LEDs on the upper portion of the baby video monitor indicate how high or low the sounds that the baby is making. It gives parents and caregivers the proper information what the baby does and needs audibly. Also, parents and caregivers can adjust volume based on how much they want to hear from the baby through the monitor.


Room Temperature Monitor
The MBP33 camera unit has a room temperature sensor that can tell whether the baby's room is too hot or too cold. This information is transmitted to the parent monitor so parents or caregivers can make necessary adjustments for the baby.


Add-Ons
The Motorola Additional Camera for Motorola MBP33 Baby Monitor, $97.99 – This baby monitor is expandable up to 4 camera units.


Pros and Cons
Pros
User friendly.
Used in long ranges.
Very clear audio and video.
Lullabies can be played in loop and remotely activated.
Expandable baby video monitor up to 4 camera units.
Great battery life.
Long power chords, so the baby unit can be placed out of the reach of babies.
Chargers are dual volt (100-240 volts), the Baby video monitor can be used when travelling or gifted in Europe or Asia.
Cons
The audio cannot be turned off, so it can be cumbersome at night.
The camera units have a bright indicator light, which can disturb babies who are sensitive to having light at night.
Comparison with Other Motorola Models
| | | | | | | | |
| --- | --- | --- | --- | --- | --- | --- | --- |
| Product | MBP 8 | MBP 10 | MBP 16 | MBP 26 | MBP 33 | MBP 36 | Blink 1 |
| Type of Monitor | Audio | Audio | Audio and Video | Audio and Video | Audio and Video | Audio and Video | Audio and Video |
| Wireless Technology | 1.9 GHz | Yes | 1.9 GHz | 2.4GHz | 2.4GHz | 2.4GHz | WiFi Connect |
| Covered Range | 165 ft | 900 ft | 990 ft | 520 ft | 590 ft | 650 ft | WiFi Connect |
| Out-Of-Range Alert | Yes | Yes | Yes | Yes | Yes | Yes | N/A |
| Night Light | Yes | No | Yes | No | No | No | No |
| Night Vision | No | No | No | Yes | Yes | Yes | Yes |
| Visual Noise Alert | Yes | No | Yes | Yes | Yes | Yes | Yes |
| Two-way Communication | No | No | Yes | No | Yes | Yes | Yes |
| Lullaby Player | No | No | Yes | No | Yes | Yes | Yes |
| Room Temperature Display | No | No | Yes | No | Yes | Yes | Yes |
| Expandable | No | No | No | Up to 4 | Up to 4 | Up to 4 | Up to 4 |
| Wall Mounting | No | No | Yes | No | Yes | Yes | Yes |
| Remote Pan / Tilt / Zoom | No | No | Yes | No | No | Yes | Yes |
Consumer Ratings
The Motorola MBP33 Wireless Video Baby Monitor is rated as 4 by consumers where 54% actually rated it as 5. It is still a Best Seller ranking #181 in Baby category, #4 in Security Monitors & Displays, and #8 in Monitors category under Baby Safety.
This is a good baby video monitor as it is given a PTPA Award.


Price
The Motorola MBP33 Wireless Video Baby Monitor is currently $179.97. It usually is in retail for $199.99. This Amazon deal will give you about 10% savings.