Table of Contents
The Infant Optics DXR-5 is a digital baby video monitor that will help parents have a peace of mind about their baby's safety. It will give them the capability of monitoring the baby wherever they maybe in the house. It is small, lightweight, easy to use, and easy to set up. It is also very cheap considering all the features it can offer.
Check out what a mother thinks of about having a baby video monitor in this link.


Inside the Box
Once you purchase, you will get the Monitor Display Unit with Li-Ion battery, one Camera Unit, one Camera Mount, 2 Power Adapters, Mounting Screws, an English Instructions Manual, 1 Year Warranty, and Lifetime Technical Support.


How to Use
Check out the video below on how easy the Infant Optics Baby Monitor to use.

Slim and Portable
The Infant Optics weighs about 1 pound. It is very slim and has a dimension of 3 x 1 x 3 inches. It is equipped with interference-free 2.4 GHz digital wireless FHSS communication link which makes it easy to place or carry the monitor conveniently anywhere in the house. The monitor display is also powered using a 900mAh Lithium-Ion rechargeable battery.
It also has 2.4 inch LCD-TFT screen which is big enough for monitoring the baby's sound and movements through real-time and clear audio and video.
Adding to its portability, the monitor display unit has an upright stand so that parents won't have to deal with holding it just to check on the screen. Also, the camera unit have their own stand as well. But they can be angled upward or downward. The downward tilting is great for viewing a sleeping baby inside his crib. Wall mounting is an option as well via screws to angle the camera better.


Night Vision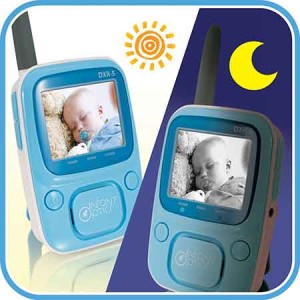 The Infant Optics DXR-5 Baby Monitor can be viewed at night without using other light via Infrared technology. This can be toggled so you have the option to turn it on or off when need be.
Wide Range
The Infant Optics DXR-5 Digital Video Monitor has up to 800 ft reception outdoors and 150 ft reception indoors. The indoor reception is quite limited because we also consider the walls blocking the signal.


Noiseless and Clear
The Infant Optics Digital Video Monitor has no static noise. There is a "White Noise Eliminator" module that rids of static noise that parents will be able to sleep comfortably. When the baby is fast asleep and the baby monitor do not detect any sound in 3 minutes, it will be on VOX standby mode and will turn off the monitor. It will only turn on again once it detects sounds when the baby is up. This is what they call the voice activated power saver mode.


Secure FHSS Data Encryption
The FHSS technology that Infant Optics has lets each audio and video transmission to the monitor is safe. No one can view the audio/video feed on other devices.


Add-Ons
Consumer Ratings
The Infant Optics has 3.9-star ratings where 53% gave it a 5. It currently sits at #1 under Monitors and Security Monitors & Displays categories.


Infant Optics DXR-5 Price
The Infant Optics Digital Baby Monitor is currently on sale for $99.99 over at Amazon. It normally retails for $299.99. This gives you about 67% savings.
Images courtesy by Amazon; Video courtesy by YouTube/Emily Guthrie