Table of Contents
Going back to school can often be stressing and uninteresting for kids. One way to make them look forward to go to school is by letting them have cute but very functional lunch bags. As part of our back to school theme for the month of September, we will list the best-selling and some school lunch bags and lunch boxes your kids will surely love.
1. Skip Hop Zoo Lunchies Insulated Lunch Bags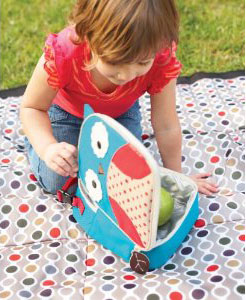 First on our list is one of the best-selling and highly rated insulated lunch bags over at Amazon. It is currently ranking #19 for Lunch Bags category and has an average rating of 4.6 out of 5 stars. This spacious 9 x 7.5 x 3.2 in lunch bag for kids has main compartment that can hold from sandwiches to drinks. The interior is easily wiped clean if needed. We also love the little mesh inside for storing other knick knacks or utensils. What makes this lunch bag eye-catching for kids is the fact that Skip Hop made it look like animal faces. There are 16 animal faces and designs to choose from. They are Owl, Cat, Dinosaur, Dog, Elephant, Giraffe, Hippo, Ladybug, Lion, Monkey, Mouse, Penguin, Zebra, Bee, Frog, and Fox. They even have matching zipper pulls and names can be written on an inside nametag. The top handle can easily be attached to another bag such as backpacks or other Skip Hop Zoo bag. And the last thing about the Skip Hop Zoo lunch bag is that it is PVC-free and complies with California's Prop 65 which shows how safe it is for storing food in it. The Skip Hop Zoo Lunch bag is in retail for $14.00 each.
2. Downtown Insulated Designer Bag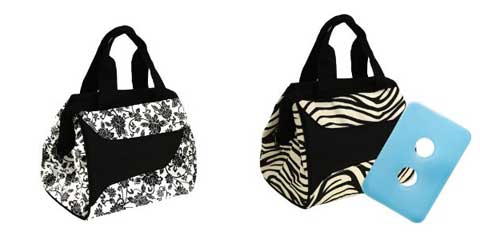 For your little fashionista, we found cute and stylish insulated lunch bag by Fit & Fresh. It actually looks like a pretty hand bag with either an Ebony or Zebra print. This 6 x 7.75 x 9 in lunch bag has a zipper enclosure, front pocket, and re-usable ice pack. This lunch bag can also be used by adults because of its designer-bag-look. Over at Amazon, this has been rated as 4.6 out of 5 and has been sitting on the best sellers list ranking #23 in Lunch Bags category. You can purchase the Downtown Insulated Designer Bag for only $18.99.
3. Thermos Novelty Soft Lunch Kit

For sporty kids, we found Thermos Novelty Soft Lunch Kit by Thermos. Aside from using PVC-free with PEVA linings, Thermos used superior quality closed cell polyethylene foam insulation which keeps food warm or drinks cold. It has convenient zippered enclosure and comfortable carrying handle that little boys look so macho using it. This 10 x 3.5 x 7 in lunch bag for boys is in retail for $14.24. You can choose from three different designs such as the Football, Basketball, or Baseball.
4. Arctic Zone Elephant Lunch Kit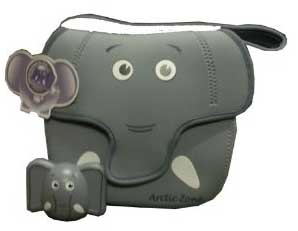 Another cute animal lunch bag is our next item in our list. It is Arctic Zone's Elephant Lunch Kit. There are other designs for this lunch bag such as Robot and Puppy Dog. This is also PVC-free and has a matching ice pack. This is cute for your preschooler. The only downside is the price. It is in retail for $23.95.
5. Sachi Fashion Insulated Lunch Bag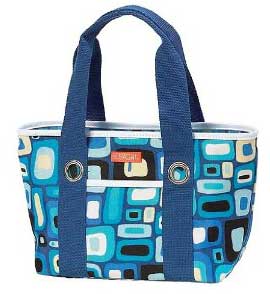 Last on our list is a Fashion Insulated Lunch Bag from Sachi. Another one for your little fashionista, it may look like any other tote. What we like about this lunch bag is it is suitable for different age groups and has so many colors to choose from. This bag measures 12 x 6.5 x 8.5 inches and weighs only about 8 ounces. It is insulated inside enough to keep food hot or cold. It is also easy to clean using damp cloth with mild soapy water. The best thing is the material is Lead-free and BPA-free which make storing food very safe. The Sachi Fashion Insulated Lunch Bag is in retail for $19.99. Currently, it is on sale for $16.67 which will give you 17% savings.