Table of Contents
The Britax Advocate 70-G3 Convertible Car Seat is also part of the G3 line that Britax released last June. It is fully equipped with all the safety features that a convertible car seat can ever have. It has the HUGS Chest Pads and Base both with SafeCell Technology, Integrated Steel, EZ-Buckle System, Side Impact protection, Click and Safe Feature, Energy-Absorbing Versa-Tethers, and Tangle-free Five-point harness. All these safety are complimented by great features such as padded cushions, easy to clean removable fabrics, and quick-adjust harness. You can also check out the previous post about the Marathon 70-G3 since some features are the same with the Advocate.
Technical Specification of Advocate 70-G3
Child Weight: 5 to 40 pounds (Rear Facing); 1 year and 20 up to 70 pounds (Forward Facing)
Child Standing Height: 49 inches or less
Child Seated Shoulder Height: 9 to 16.75 inches (Rear Facing); 12 to 16.75 inches (Forward Facing)
Product Weight: 21.6 pounds
Product Dimensions: 22 x 26 x 21 inches
Seating Compartment Height: 23.5 inches
Seat Area Depth: 11 inches
Seat Area Width: 11 inches
Shoulder Width: 13 inches
Harness Slot Heights: 8.5 / 9.5 / 10.5 / 11.5 / 12.5 / 13.5 / 14.5 / 15.5 / 16.5 / 17.5 inches
Buckle Strap Depths: 5 & 7.5 inches
Certified for Aircraft Travel
Made in the USA with global components
Safety Features
Like the Marathon 70-G3, Boulevard 70-G3, and Pavilion 70-G3, the Advocate 70-G3 is equipped with HUGS Chest Pads and the Base both of which have SafeCell Technology that compresses to restrict a child's body from making forward movements during a crash. The Energy-Absorbing Tether also minimizes the forward movement of a child by lowering the child's center of gravity which bigger kids need and staged-release to slow down forward forces. The Integrated Steel reduces the amount of flexing that car seat could create during an impact and therefore the child will be strapped safely on the car seat.
Protecting children from making forward movements is one thing, but Britax tackled 360-degree safety and pushed further in protecting children from side impacts. They added True Side Impact Protection which includes the huge head restraint designed to make the children's head aligned with the body and contained inside the car seat and contributes the impact forces throughout the body and minimize possible injuries. This is the same with the Boulevard 70-G3 and Pavilion 70-G3. Also they made sure that this Side Impact Protection minimizes any further injuries from protrusions that the vehicle may create during an impact. The side walls are well padded with EPP foam to help with cushioning the child during the crash as well.
Side Impact Cushion Technology
The main safety feature of the Britax Advocate 70-G3 Convertible Car Seat as compared to the other models in G3 line is the Side Impact Cushion Technology. This is in addition to the abovementioned True Side Impact Protection in which reduces side impact crashes energy by up to 45% more. This not only protects the child inside the car seat but it also cushions the adjacent passenger. The cushions are located in each side of the car seat. Be warned though, that because of this, the Advocate 70-G3 is wider than the other Britax convertible car seats. The Side Impact Cushion Technology has been designed, developed, and patented since 2009 on the Advocate 70-CS and is also applied on the Frontier 85 SICT Booster Seat.
Strapping Features
The features discussed below are also the same for Marathon 70-G3, Boulevard 70-G3, and Pavilion 70-G3. The Britax Advocate 70-G3 is equipped with tangle-free five point harness in which it can be adjusted easily without rethreading or disassembly or removing of the seat cover. It is further enhanced with another safety feature, Click & Safe Snug Harness Indicator to give you indication that the straps are pulled tightly enough to secure the baby in the car seat. It is then enclosed by an EZ-Buckle system that has two adjusting positions for growing child. That way the buckle always stays in front of the child and will not be sat upon or that you won't have to fish it out when buckling or unbuckling your child. To make strapping your child much easier, there are simple Velcro on either side of the car seat used as Harness Holders. This will basically keep the straps away when you place your child in the car seat.
Installing the Advocate 70-G3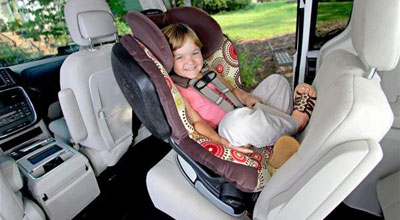 Like the Marathon 70-G3, Boulevard 70-G3, and Pavilion 70-G3, the Advocate Convertible Car Seat can be installed two ways – using the LATCH and tethers; or using the seat belts. Britax made sure that whatever you choose is based on the vehicle and car seat standards and made them much easier. The LATCH has an easy release button, kind of like what you use on the seat belt. When using the shoulder or lap belts, there are built-in lock-offs in the car seat when the part of the seat cover is removed. These lock-offs secure the vehicles seat belt and make sure that the car seat will not have necessary movements once it is strapped. To aid the car seat from further making any movements and slippage from the vehicle's seat, the Advocate 70-G3 is also equipped with a contoured base that will grip the seat well.
Fabric Options of Advocate 70-G3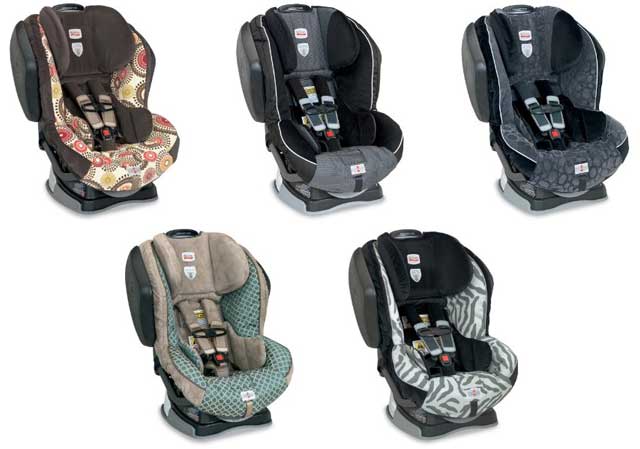 The Britax Advocate 70-G3 Convertible Car Seat comes in 5 different fabric options. They are Anna, Onyx, Opus Gray, Serene, and Zebra (left to right). The fabric is easy to clean and can be done so by not removing it from the car seat. It is not advisable to machine wash and dry clean it though because it may compromise the pads of the seat cover.
Accessories of Advocate 70-G3
Infant Positioning Insert in Gray, $14.99
Child Cup Holder in Black, $14.99
Car Seat Travel Bag in Black, $69.99
Car Seat Travel Cart in Black, $79.99
Britax Boulevard Cover Sets in Anna, Onyx, Opus Gray, Serene, and Zebra, $79.99
Kick Mats in Black, $15.99
Reversible Head/Body Support Pillow in Ivory and Gray, $29.99
EZ-Cling Window Shades in Black, $9.99
Storage Pouch in Black, $9.99
Vehicle Seat Protector in Gray, $29.99
Back Seat Mirror in Black, $19.99
Pros and Cons
Pros
Very comfortable and well padded
Easy to remover seat cover
Baby is secured because of the Click and Safe Feature
Side impacts acts like headrest when the baby falls asleep
Easy LATCH system
Solid built
Great Customer Service from Britax
Cons
Quite bulky, you may want this if you have a bigger vehicle such as an SUV
Infant insert is sold separately
Putting rolled-up towels to help with the proper recline in rear facing position
Instructions on the manual can be confusing, it's better to view the YouTube videos of Britax
Consumer Ratings
The Britax Advocate 70-G3 Convertible Car Seat is not that popular even though it has all the bells and whistles that Britax can offer. It is only rated as 3.9 over at Amazon and 50% are still happy with their purchase. Still, it sits in the Best Sellers list ranking #38 in Convertible Car Seats category.
Advocate 70-G3's Price
The Britax Advocate Convertible Car Seat is in retail for a whopping $379.99. But during the time this post was made, it is on sale for $310.05 giving you a total of 18% savings over at Amazon.