One way of making your girls want to go to school is by letting them look good. One of the things that first show pride for our little girls is having great looking and comfortable shoes. That is why in this list we will enumerate the lovely ballet flats and dress shoes that are appropriate for school and also for other occasions.
1.  Kenneth Cole Reaction over the Tap Ballet Flat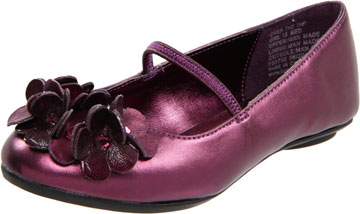 First item in our back to school ballet flat list is the Over the Tap Ballet Flat from Kenneth Cole Reaction. This man-made leather shoes are very comfortable with only about 0.25 inches of heel which will not strain your kids' feet. The strap on the upper portion is very flexible for comfortable fit. It comes with different colors and designs to choose from such as Black, Light Gold Print, Light Gold, Silver, Bronze, Dark Pewter, Deep Purple (picture), and White. We love the matte and metallic colors, that they go just about any dress, tights, or shorts ensemble. This girl's ballet flats have been rated 4 out of 5 and have been a Best Seller ranking #33 in Flat Shoes category. Its price ranges from $19.99 – $44.95 depending on size over at Amazon.
2. Jessica Simpson Leve Ballet Flat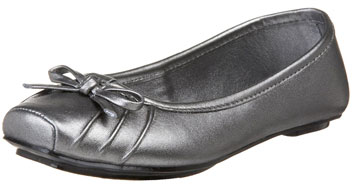 We all know that Jessica Simpson designs great apparels from head to foot. We found this Leve Ballet Flats that even bigger kids like us love. They are comfortable and also will go anything with it. They are not hard to match at all with your daughter's wardrobe. It is accented by a little bow, a little ruching for fit, and a gentle square on the toe like a real ballet flats. They come in so many different designs and colors such as Black, White, Pewter (picture), Tortoise, and even Burgundy. The Leve Ballet Flats price ranges from $19 – $49.44 depending on size.
3. Jessica Simpson Leandra Flat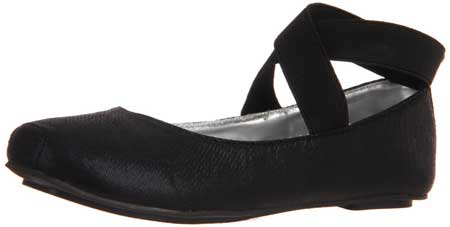 Another Jessica Simpson Flat for our darling daughters is in the next item in our list. The Leandra flats look almost like a ballet shoes because of the elastic ankle wrap. Although it comes in Disco Ball design, the Black (picture) color is better and much simpler and can even be used by girls in school uniforms. This comfortable ballet flats range from $34.95 – $35 depending on size.
4. Jumping Jacks Martina Flat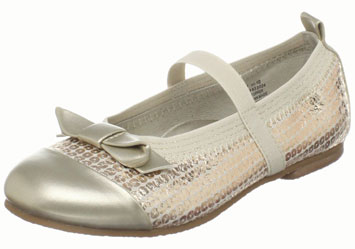 Who loves sequin? We do but we hate those that easily rubs or chips off after several use. Now, the Martina Flats by Jumping Jacks have sequin pattern. Yes, you read it right, they are patterns not actual sequin that can fall off. So you can let your darling daughter strut in this well designed flat that looks great and feels great. It has leather lining and stretchable collar and cross strap for better and snug fit. Also, the comfort is better with the padded foot bed inside. The Jumping Jacks Martina Flats are in retail for $25 – $55 depending on the size.
5. Girls Satin Ballet Slippers – Quilted Design

Well, maybe this next item in the list is not that practical for everyday school activities, but they are great white dress shoes for special occasions. They are in white or ivory with quilted design. This Flippa Scott shoes comes in two designs that are not too different. The toddlers' have a strap for a secure fit while bigger girls do not have that strap. They are look and feel comfortable with padded underfoot for comfort. This Girls' Satin Ballet Slippers are in retail for $24.
6. Steve Madden Kid's Stephi Ballet Flat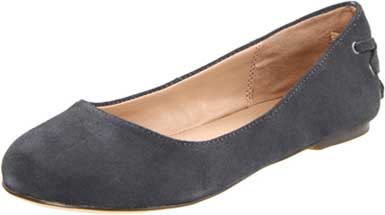 How about some Suede? When you see these flats you will wish they make them for adults as well. The girls will look more than lovely with this comfortable Stephi ballet flats from Steve Madden. It comes in Black, Metallic, Fuchsia, Blush, Grey (picture), and Taupe. Most of the color choices are in suede, but some are in man-made leather. They feature a crossed-lace design at the back as an accent and have 0.25-inch rubber heel. It is very well made that it has been rated as 4.8 out of 5 from satisfied consumers. This comfortable back to school ballet flats are in retail for $29.99 to $41.36 depending on the size.
7. Glittery Ballet Flats for Kids

This next item in our list is a great school shoes but they practically go with anything and they are not just the ordinary metal finish, they are glittery. Girls will surely love these Glittery Ballet Flats in Silver or Black. They are only in retail for $19 and they have adult sizes as well.
8. Cole Haan Kids Air Tali Mary Jane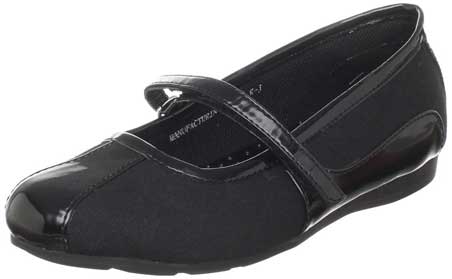 Our last item in this list is something worth your money that can be used by girls with uniforms – the Tali Mary Jane by Cole Haan Air. It features canvas and breathable lining that will keep your girls' feet cool. It has cushioned leather foot bed and midsole that has NIKE Air technology for comfort. The cross-vamp strap can be adjusted quickly using the hook-and-loop enclosure for better fit. The Tali has been in the Best Sellers list ranking #75 in Girl's Uniform & School Shoes. It priced at $77.95 but is currently being sold for $75.05 to $76.53 depending in size.