Starting of out Back-To-School theme, we found a few stylish and chic backpacks for preschoolers. The reason we chose them is that they can also grow with your children and can be used by the time they reached middle school. Their designs are not confined to cartoon characters that can easily be outgrown. Actually, each design is so stylish that they can even be used outside of school.
Do note that Preschoolers do not necessarily bring books or binders. They are taught to have a sense of responsibility that is why backpacks are easier to have for their age group. They usually bring extra clothes or even snacks.
1. Hello My Name Is Deluxe Backpack by Sprayground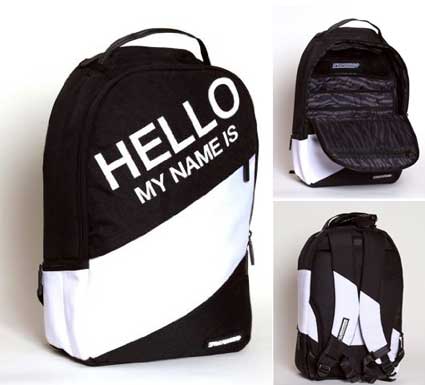 Sprayground has been known to have designs that look as if a spray painter made them and they usually appeal to teens. But this black and white design is very simple and is appropriate even for a preschooler. For bigger children or teens, there are more colors to choose from that are suited for their ages like the Pink, Red, and Camo. You can actually fill in the blank of "My Name Is" phrase for further customization or leave it empty. Made from durable polyester fabric and feature a sleek construction with hidden features, it is about 11.5 x 17.5 x 6 inches perfect for Kindergarten and up children. It cost around $68.69 which includes custom zipper pulleys and emblems.
2. Kids Polyester Pink Swirls Backpack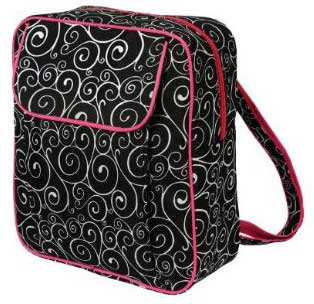 Another cute back to school backpack that we found is from WB. It has swirls design in white over black background and trimmed in bright pink. You can let your little girl walk around it even on other occasions other than school rather than confine them with a bright pink with cartoons in front. This polyester bag also has nice basic compartments such as mesh open pocket inside the bag, and an outer pocket with Velcro enclosure. It even has ID compartment and the straps are adjustable. It is 12 x 5 x 14 inches which is perfect for a preschooler. This chic bag is also very cheap that retails for $19.95 only.
3. Hello Kitty White Geek Face Backpack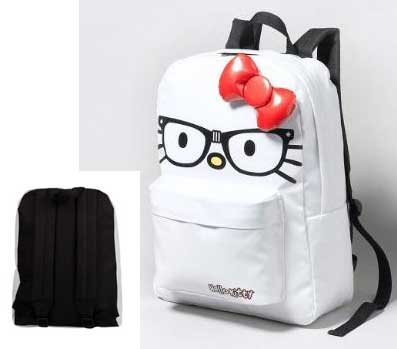 For those Hello Kitty lovers, there is another great Hello Kitty backpack made for back to school season. It is not the usual hello kitty design as shows the cat with black glasses, thus called "Geek Face". It is also not the usual light pink bag but comes in mostly white from front to the sides and black at the back and adjustable straps. The man-made vinyl bag measures 13 x 16.5 x 8.5 inches with a front zippered pocket that almost looks like the cat's mouth. Adding interest to its design is the 3D bow on top as Hello Kitty's signature accessory. This ideal preschool backpack cost about $29.99.
4. Student Backpack in Dog check by Dickies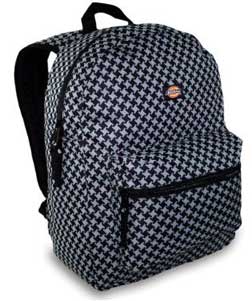 For the little men, we chose Dickies Student Backpack in Dog checks. It is in Gray and Blue which is perfect for the ones who play a bit rough and can easily get dirty. It is also zippered and has a zippered front pocket. It has adjustable straps that will comfortably snug on your boy. This great find is also cheap for its quality and on sale for $21.99 which gives you 37% savings. It normally retails for $34.99.
5. Quilted Damask Backpack by Scarlett's Bag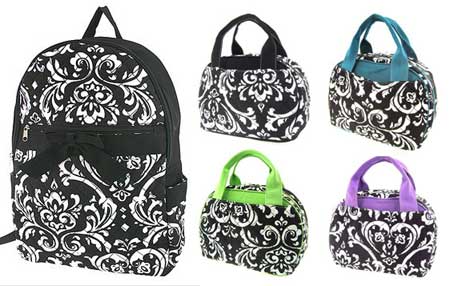 The last stylish back-to-school preschool backpack we will feature is from Scarlett's Bag. This cute quilted damask backpack is made of Cotton Microfiber with zippered enclosure and front pocket. It also has open side pockets for those knick knacks or even small bottles for juices or water. It has adjustable strap enough to snug on your little girl for wearing a 13 x 17 x 5 inches backpack. What makes this bag so cute is the white French patterns over the black background and further accentuated by a black bow. As a back-to-school treat, when you purchase this backpack, an insulated, double-handled matching lunch bag will be added. You can choose from black, blue, green, and purple color variants of the lunch bag. The backpack and lunch bag are worth $44.99 but currently has 33% savings and only getting it for $29.99.