Table of Contents
There are so many variations of the high chairs nowadays. We all have seen the usual huge plastic or wooden high chairs, stroller variants that double as high chairs, the hook-on high chairs, booster seats, and even travel seats just so toddlers can eat on the table with us. But we just heard is the new Ciao! Baby Portable High Chair. This modern baby high chair is designed specifically for those who love to stay outdoors and do activities such as picnics, camping, vacations, tailgating, bring their toddlers to grandma's, and dining out with their kids.
Inventors of the Portable High Chair
The Ciao Baby Portable High Chair was invented by Jamye Baker and Kim Strong, founders of Jamberly Group which currently markets it are busy mothers who realized that mealtimes are not often spent at home. They knew from then that families need a solution that will make life much more convenient for mealtimes and snack times – and that is the Ciao! Baby Portable High Chair. After five years of testing and redesigning, Jamye and Kim announced last June 2012 that the high chair that can go anywhere you go.
Requires No Assembly
The Ciao Baby Portable High Chair requires no assembly. Upon purchase, it will arrive in your doorstep completely packed inside the travel bag. It is all in one piece that easily unfolds and locks into place in just in seconds, literally. Once you are done, it easily folds back up after unlocking the legs and can be stowed away in the bag again.
Lightweight and Flexible Design
The Ciao Baby Portable High Chair is very lightweight even though it looks long. It is approximately 23 x 23 x 32 inches when opened and weighs only 8 pounds. The overall materials are made of durable materials that are stitched and attached to the frame solidly and yet moves flexibly.
The design is actually inspired from the usual camping chairs. The inventors ingeniously added the tray, added lap belt, and made to fit babies and toddlers from 4 months to 3 years old. The actual design is so comfortable for kids that they would prefer sitting on it than hard chairs or make too much unsafe movements on booster seats.
Clear Vinyl Tray with Cup Holder
 Your typical camping chair normally has cup holders on either side of the arm rest, but the Ciao Baby Portable High Chair has a tray covered with vinyl and a cup holder on it instead. This makes it so different from the usual high chairs for toddlers in the market.  The Vinyl makes it easy for parents to make quick clean-ups. The tray is very snug on the bodice that sometimes getting your kid out is a bit hard. This goes to show that your kid will not climb out and won't get off without your help.
Comfortable Lap Belt
For safety purposes especially on smaller kids, the Ciao Baby Portable High Chair is equipped with a lap belt that can be adjusted at the back for a better snug fit and still be comfortable.
Tested and Approved
The Ciao Baby Portable High Chair meets the ASTM high chair standards and passed the CPSIA testing for juvenile products. These add proof that it is very safe for use and let our little ones enjoy it.
Ciao Baby vs. Folding High Chair
The Ciao Baby Portable High Chair is what I would personally prefer rather than the usual standard or folding high chair. My son was not keen on using strollers and hate being strapped on the high chair. But the Ciao Baby is very comfortable and looks like an additional chair that you can lug around and doesn't take much space for storage as compared to the latter.
Ciao Baby vs. Booster/Travel Seats
The Ciao Baby Portable High Chair stands on its own as an additional chair. Although the booster or travel seats are way more compact and portable they need an actual standard chair for you to utilize them. Also, they need a few more minutes to assemble or strapped in the chair while the Ciao Baby unfolds in seconds. They do not have trays or cup holder like the Ciao Baby.
Ciao Baby vs. Hook-On Seats
The Ciao Baby Portable High Chair is equipped with a tray and cup holder where you can actually place your kid's snack and clean up later while the hook-on seats need an actual table to be clamped on. Take not of the term clamped, because that's how you need to install them in order for your kid to use it. I don't think all places especially outdoors have available table space for a hook-on seat, while the Ciao Baby can stand on its own.
Ciao Baby vs. Restaurant High Chairs
Those who love the great outdoors picnicking or barbecues have taken advantage of the portable high chair already, but for city folks like me it is a much preferred baby product than using restaurant high chairs. Firstly, strollers can be bulky for getting inside an eatery and most often they are so low that kids can reach anything on the table, so the high chair does a good job for this. What I hate about restaurant high chairs are four things: they can be old that can later harm my kid; they can be broken (yes, I have encountered this) that you are left holding your baby the entire time while dining; they can be unavailable, if there are too many kids and all high chairs are unavailable; and lastly, they can be unclean or we can never be sure if they have been cleaned after someone else just used it. SO having a portable high chair does give comfort for your baby and peace of mind for you.
Ciao Baby Color Options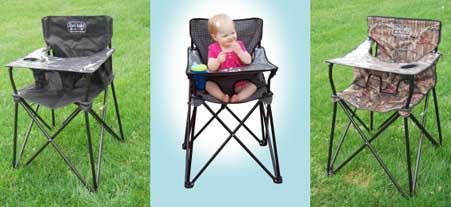 There are three color options for the Ciao Baby Portable High Chair, but when this post was made, only the Black is available. Hopefully, Jamberly Group will be able to make the other colors available soon.
Ciao Baby Portable High Chair Promotional Video
Take a look at the video below to see how easy the Ciao! Baby High Chair is assembled and listen to the numerous testimonials of the Parents and Grandparents who are taking advantage of this wonderful product.



Ciao Baby Consumer Ratings
So far, the Ciao Baby Portable High Chair has been rated as 5. It has also been in the Best Sellers list ranking #40 in Booster & Hook-On Seats category.
Ciao Baby Portable High Chair's Price
When this post was made, the Ciao Baby Portable High Chair is in retail for $79.99 over at Amazon, but is on sale for $75.51 which gives you about 6% savings and is even eligible for free 90-day returns.