Table of Contents
The Britax Pavilion 70-G3 Convertible Car Seat is part of the G3 line that Britax announced last June. It has new product safety features such as the HUGS Chest Pads with SafeCell Technology and EZ-Buckle System that are also available for the Advocate 70-G3, Marathon 70-G3 and Boulevard 70-G3. Let us inspect each main feature of the Pavilion 70-G3 and see how it differs from the other G3 line.
Technical Specifications of Pavilion 70-G3
Child Weight: 5 to 40 pounds (Rear Facing); 1 year and 20 up to 70 pounds (Forward Facing)
Child Standing Height:  49 or less inches
Child Seated Shoulder Height: 9 to 16.5 inches (Rear Facing); 12 to 16.75 inches (Forward Facing)
Product Weight: 19.5 pounds
Product Dimensions: 18.5 x 26 x 21 inches
Seating Compartment Height: 23.5 inches
Seat Area Depth: 11 inches
Seat Area Width: 11 inches
Shoulder Width: 13 inches
Harness Slot Heights: 8.5 / 9.5 / 10.5 / 11.5 / 12.5 / 13.5 / 14.5 / 15.5 / 16.5 / 17.5 inches
Buckle Strap Depths: 5 & 7.5 inches
Certified for Aircraft Travel
Made in the USA with global components
Safety Features
Like the Marathon 70-G3, Boulevard 70-G3 and Advocate 70-G3, the Pavilion 70-G3 is equipped with HUGS Chest Pads with SafeCell Technology located on the harness straps affixed on the upper shell of the car seat, the Integrated Steel Bars, Base with SafeCell Technology, and Energy-Absorbing Versa-Tether that basically minimizes the forward movement of the child during a crash. This is accomplished by the ability of the features to lower the center of the gravity especially on bigger children, reduce flexing, the SafeCell Technology compresses to reduce impact forces that can be experienced by children, and the versa-tether holds the car seat and has a staged-release to slow down forward movement.
If the above features protect a child from forward movements during a crash, the True Side Impact Protection is designed to protect and minimize injuries during a side impact crash. This feature is the same with the Boulevard 70-G3 and Advocate 70-G3 and distributes the crash forces and shield from any vehicle intrusions that crashes may create. Their difference with the Marathon 70-G3 is the huge head restraints that have more EPP foam to minimize the movement of the head and body, and keep them aligned with the seat.
Click & Safe Snug Harness Indicator
The Pavilion 70-G3 Convertible Car Seat's difference with the Marathon 70-G3 and the Boulevard 70-G3 is the Click and Safe Snug Harness Indicator. It is actually an audible click indicating that the restraint straps are not snug enough to secure the child in place or there are loose harness straps. This feature is located at the seat's adjuster housing unit and a Click and Safe logo near the harness adjuster flap can be seen. It actually works with a mechanism that sense tension when the adjuster strap is pulled assuming that there are no loose or slacking straps.
For some, this feature is just a small thing, but honestly there are many parents that do not really know the appropriate snugness of a strap because they assume that it may be too tight for their child. So this tension-sensing feature will help with that problem. Having a loose restraint straps will make a child in the convertible car seat is vulnerable to more injuries during a crash because he may get out of the position or even eject out of the seat.
Britax included the Click & Safe snug harness indicator first on the Boulevard CS back in July 2008.
Other Features
Like the other convertible seats in the G3 line, the Pavilion 70-G3 is equipped with tangle-free five point harness which can be quickly adjusted without rethreading or removing the seat cover. It also has EZ-buckle system that has two positions for growing child that remains in the front so that the child won't have to sit on it and won't bite into his skin. During strapping the child, the harness straps can be put to sides to prevent from disturbing and getting in the way of the child through the use of Harness Holders that are actually made of Velcro.
Installing the Pavilion 70-G3
The Pavilion 70-G3 Convertible Car Seat can be installed in two ways. You can make use of the lower LATCH connectors to anchor the seat onto the vehicle with a great feature of push button for easy and quick release. With the LATCH it is great to partner it with the tether to secure the seat from the above.
Another way of installing the Pavilion is to use shoulder or lap belts. This is done by removing part of the seat cover to reveal the built-in lock-offs. They ensure that the seat belt is snug and tight and won't make the car seat have unnecessary movements.
Making sure that whatever type of installment is good and safe, the Pavilion is also equipped with an Anti-slip, Contoured base that grips the vehicle seat and makes sure that the car seat will not slide or move. This is great even on leather vehicle seat.
Fabric Options of Pavilion 70-G3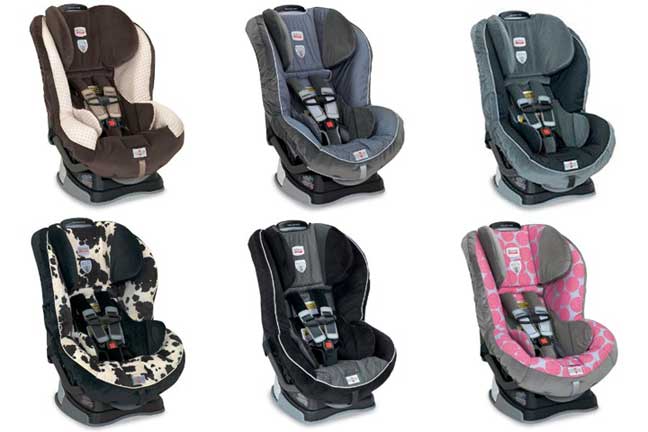 The Pavilion 70-G3 Convertible Car Seat comes in 6 different fabric options. They are Biscotti, Blueprint, Calgary, Cowmooflage, Onyx, Sophia (left to right). Calgary is available only in Babies R Us.
Like any Britax car seat, the Pavilion has great and thick padding made up of High Density Comfort Foam that cushion and makes your child comfortable on it. The Seat cover itself can be removed and even be washed without removing. It is breathable and keeps cool that will make a kid comfortable in it.
Accessories of Pavilion 70-G3
Infant Positioning Insert in Gray, $14.99
Child Cup Holder in Black, $14.99
Car Seat Travel Bag in Black, $69.99
Car Seat Travel Cart in Black, $79.99
Kick Mats in Black, $15.99
Reversible Head/Body Support Pillow in Ivory and Gray, $29.99
EZ-Cling Window Shades in Black, $9.99
Storage Pouch in Black, $9.99
Vehicle Seat Protector in Gray, $29.99
Back Seat Mirror in Black, $19.99
Pros and Cons
Pros
Sturdy but comfortable car seat
Easy to install
Easy to adjust clicking restraint straps
The base is narrow enough to fit the car seat on narrow vehicle seat
Breathable Fabric, cool enough for the summer and does not retain heat
Thicker pads
Cons
Quite Expensive
Not the usual Snap-and-Go car seat, child can be disrupted during sleep when unbuckling him
The SafeCell on the HUGS are easily bitten off and might pose a choking hazard
Not machine washable
Looks complicated
Not good level indicator, it's just a line for reference
Consumer Ratings
The Britax Pavilion 70-G3 Convertible Car Seat has been rated as 4.4 where 64% are very satisfied with it and awarded it with a 5. It has also been on the Best Sellers list ranking #59 in Convertible Car Seats category.
Pavilion 70-G3's Price
The Britax Pavilion 70-G3 Convertible Car Seat is usually priced at $339. But during this post was made, it is on sale for $259.99 at Amazon giving you 25% savings.