Table of Contents
To ensure and encourage children to wash their hands as often as possible, us moms constantly carry our kids over the sink and try our best to clean their hands. But as they grow bigger and heavier, sometimes carrying them can develop back pains and also not able to clean their hands especially in between fingers. At home, we can simply fix this problem by providing them a stool for them to stand on and reach the faucet themselves. I am fortunate that the lavatory on out comfort room stands alone without storage. This makes it easy for my son to reach the faucet at the side. Other public places are equipped with kid-sized sink like kindergarten schools. But I know most homes and public places have huge lavatories and big sinks that give toddlers a hard time to reach the faucet. I even have to let my son climb over the kitchen lavatory to reach the faucet, since the kitchen's design is far different from that of the comfort rooms'. So when the Aqueduck Faucet Extender came out last year, it made this simple but enormous problem a thing of the past.
Inventor of Aqueduck Faucet Extender
The Aqueduck Faucet Extender is invented by Susanna Lee of Peachy LLC, a mother of three who simply wanted to make washing hands way easier both for a kid and a parent. She herself experienced back pains from lifting her son just to wash his hands and while preventing more mess in letting her son climb over the public lavatory. After a lot of researching for such a product and then failed, she decided to design and make one. She even used Starbucks' cups as first prototypes. Trying to fit a product in large variety of faucets is a huge task. After several months, the Aqueduck, a faucet extender for children which lets the flow of water from the spigot reach the hands of toddlers is invented and was tried out by her family and friends. Currently, her invention has been helping out numerous families with the same problem.
Aqueduck Construction and Design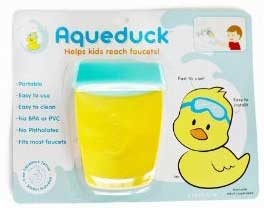 The Aqueduck is shaped like a duck bill that extends the water faucets spigot so that children can reach the water. It has a silicone rubber which is very flexible and sturdy to fit most of conventional faucet sizes.
The Aqueduck water faucet extender measures 4.5 x 3 x 1.6 inches and weighs less than 1.6 ounces which makes it portable. Not too small to make the necessary extension and not too large that you can actually fit it in your purse so that you can use it on public places.
The Aqueduck is Phthalate Free, BPA Free, and Lead Free which makes it very safe for kids. It is also Dishwasher safe so you can just add it with your dishes for cleaning.
Fun and Easy to Install
Installing the Aqueduck Faucet Extender is fun and easy. Simply hold it on your palm to squeeze the sides, push inward the lower flap of the silicone rubber, insert the faucet inside the silicone rubber, release it, and then turn on the water.
Homemade Faucet Extender vs. Aqueduck
Some mothers thought of making their own DIY Faucet Extenders. Using plastic bottles, they cut the top off, the front, and the bottom to mimic the shape that of a duck's bill. With a homemade faucet extender for children, you get to recycle plastic bottles, you get to customize it to fit the faucet you have, and you spend nothing. But the disadvantages for a DIY kids' faucet extender are possible jagged edges because they bottles are hard to cut; and they are not portable like the Aqueduck.
Other Uses for the Aqueduck Faucet Extender
The Aqueduck Faucet Extender is not just for washing hands. It can also be used for washing your baby's or your own hair over the sink — great idea, right?
Aqueduck Faucet Extender Colors
The Aqueduck Water Faucet Extender comes in 3 beautiful colors. They are the Aqua with Yellow, Pink with Yellow, and the Gray. We love the Gray color because it easily can go with the overall décor of a bathroom, it doesn't look like it is even there.
Aqueduck on Rachel Ray Show
The Aqueduck Faucet Extender was featured in Rachel Ray's Show last year.



Consumer Ratings of Aqueduck
The Aqueduck bathroom Faucet Extender has been rated as 4.8 by over 100 actual users via Amazon.com and 83% actually rated it as 5. It has also been a Best Seller and ranked 3262 in Baby category, #29 in Safety category, and #3 in Bathroom Safety category.
Aqueduck Faucet Extender Price
The Aqueduck Faucet Extender for kids is normally in retail for $12.99. During this post is made, it is on sale for $11.19 which gives you 14% of savings. Some consumers may actually think that this simple device cost more than what it is for, but we believe that the effectiveness of its use is just right. Also, the materials used to make the Aqueduck are both of good quality and safety.