Table of Contents
The Indie Twin Stroller is the first ever and only (for now) side-by-side stroller launched by Bumbleride back in 2008. The latest version was released in April 2011. It is tailored for those who are having twins or second baby. It can fit infants up to bigger toddlers. And it has all the great features and functionalities that the Bumbleride Indie has. Each seat is independent of each other with canopies, backrests, and footrests that can be adjusted on their own. Also, this twin stroller can accommodate two infant car seats stadium style, a feature that most competition do not have.
Technical Specifications of Bumbleride Indie Twin
Unfolded Dimensions: 29 x 36 x 34.5 inches
Folded Dimensions: 29 x 32 x 15 inches
Seat Measurements: 12.5 x 19 inches
Seat to Canopy Length: 23 inches
Product Weight: 34 pounds
Weight Capacity: 90 pounds
Bumbleride Indie Twins Features
Lightweight
Reclining Backrest and Rigid Backrest Support
Adjustable Five-Point Harness
Adjustable Footrest
Adjustable Handle Height
Spacious Cargo Basket
12″ Air-Inflated Tires
360° Swivel Front Wheel with Inline Fixed Position
Rear One-Step Brake
Said Features above, Safety Certifications, Care and Maintenance, and about Customer Service of the Bumbleride Indie Twin are the same as the Indie Single Stroller has.
New Features for 2011 Bumbleride Indie Twin
New Sun Canopy
New Color of Fabric
New Rain Shield
Exclusion of Airpump
Inclusion of Bumper Bars
New Maxi Cosi adapters
SPF 45 Sun Canopy
Like the Bumbleride Indie Single, the Indie Twin canopies have been redesigned to include a new UV lining. This lining aids in reflecting heat and adds SPF 45 protection for the babies' skin. This is great especially during the summer.
Fabric Options
The main change in the Indie Twin from the 2010 version is that the 2011 version has more fabric options to choose from. They added the Movement and Natural Edition. The Movement Edition are thinner and yet sporty for the more active kids. They come in Jet and Fog colors. The Natural Edition on the other hand has much more softer fabric and made from environment friendly materials. They come in Ocean and Walnut Colors. The Classic colors are still available like the Aqua which is the latest, Seagrass, Ruby, and Lava.
No PVC Rain Shield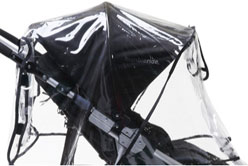 For 2011 version of the Bumbleride Indie Twin, the Rain shield has been redesigned with non-PVC materials. Also, after many feedbacks from users, they Indie Twin no longer include the Rain Shield from the box. Some users said it is useless because not all places encounter rain. So Bumbleride made the Rain Shield as an optional accessory which is in retail for $44.99. The old type of Rain Shield is still available in the market for $33.75.
Air Pump
The Air Pump for the Bumbleride Indie and the Indie Twin is no longer included. Others think that it is ok as the air pump doesn't really work well. But there are some who complain about the Indie's air-filled tires tendency to deflate during the stroll. Well this happens to bicycles and even cars, so it is necessary to have an air pump, why exclude it?
Bumper Bars

Bumbleride finally included the bumper bar for the Indie Twin after being bombarded by consumers. The bumper bar not only serves as front bar to secure the children but it also serves as a car seat adapter as well. To use it as a car seat adapter, remove the fabric on it. We have to say that this is an ingenious feature.
Car Seat Compatibility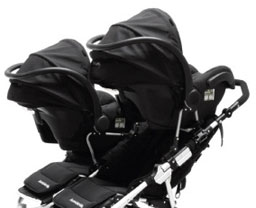 Most side-by-side strollers can only accommodate one car seat at a time. Because the car seat built is wider than the seat and would practically bump into one another if two seats are squished together. This is actually ok if the kids on the stroller have huge age difference but not for twins. Yes, carrycots can be used for infants or fully reclining the seat flat can serve as bassinets for them too, but how about twins on car seats?
Bumbleride designed two infant car seats for Maxi Cosi and Chicco Infant Car Seats. How is that possible? One infant car seat is offset a little higher than the other. That way they both fit stadium style. When buying an adapter for this, watch out for the "lower" or "upper" distinction. Bumbleride released the Maxi Cosi Mico adapter last August 2011. Hopefully they will release more adapters later on.
For One Infant Car Seat at a time:
Graco Snugride, Snugride 32, and Snugride 35
Peg Perego Primo Viaggio SIP 30/30
Combi Shuttle
Baby Trend Flex Loc
Britax Chaperone
Chicco Keyfit 30 (adapter sold separately)
For Two Infant Car Seat at a time:
Maxi Cosi Mico (adapter sold separately and only compatible with the 2011 Indie Twin)
Included Accessories for the indie Twin
Cup Holder, $7.50
Infant Headrest & Shoulder pads
Jogging Strap
Bumper Bars
Optional Accessories and Parts
Parent Pack, $24.99
Snack Pack, $39.99 – $44.99
Universal Car Seat Adapter, $19.99
Maxi Cosi Car Seat Adapter, $39.99 each
Carrycot, $149.99 – $159.99
Footmuff & Liner, $64.99 – $69.99
Non-PVC Rain Shield, $44.99
Rain Shield (Ordinary), $33.75
Front Wheel, $25
Fabric Set, $89 -$99
Air Pump , $9.99
Pros and Cons
Pros
Very comfortable ride that children sleep all the time on it
Wide seats but  both fit on standard doors
Easy to remove fabrics for washing
Machine washable fabrics
Very attractive stroller
Huge multi-position canopies have maximum cover
Cons
Big and bulky
Footrest tends to move out of position
Manual fold lock
Rain cover and air pump are now sold separately
Cup Holder seems useless and makes the total stroller width wider
Expensive
Maxi Cosi Adapter is not compatible with 2010 Indie twin
Consumer Ratings
The Bumbleride Indie Twin is rated as 3.8 where 56% gave it a satisfactory 5 over at Amazon. Most of those complaints say that they didn't like Bumbleride's customer service or that they hated purchasing a product that in the market where they are still affected by the Recall.
The Recall for both the Indie and Indie Twins concerned the front wheel that may crack at the center axle hub. It is a safety concern that may lead to tripping or falling hazard. Early this year, January 2012, Bumbleride asked those affected (purchasers from January 2009 to August 2011) to apply for a Wheel Retrofit Kit, which is the solution to the problem. And Bumbleride ships the kits in roughly three days.
Bumbleride Indie Twin's Price
When this post was made, the Bumbleride Indie Twin is on sale for $689.99 with Classic Color Options and $719.99 for the Movement and Natural Edition. This already has a one-year warranty.
Overall Impression on the Indie Twin
The Bumbleride Indie Twin may have quite a top end price tag, but it is packed with features that other much more expensive strollers do not even offer. So far, it is the only side-by-side stroller that can accommodate two infant car seats at a time. Also, its being lightweight and all-terrain at the same time is surprising. Families with two babies or twins who have active lifestyle and would mostly like to be out and about, the Bumbleride Indie Twin Stroller is most suited for them.